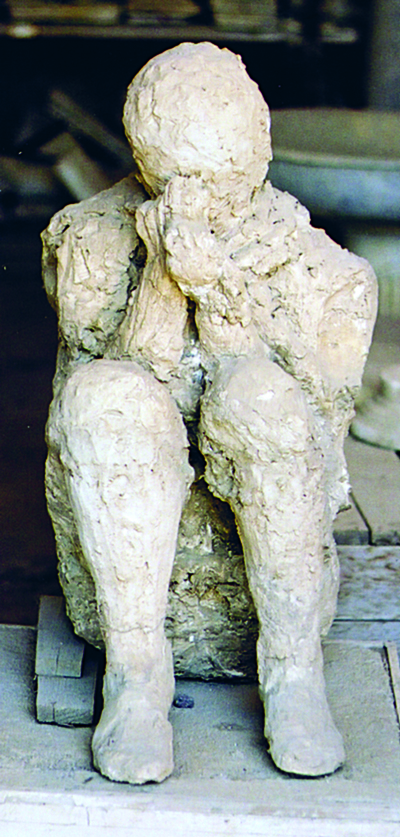 Pompeii destroyed and discovered
Pompeii was destroyed by the eruption of Mount Vesuvius on 24 August AD 79. Memory of its former location was later lost. Then, in 1594, workmen employed to dig a tunnel designed to divert the waters of the River Sarno uncovered Roman wall-paintings. They were working for architect Domenico Fontana, who, in turn, was employed by Count Muzio Tuttavilla. But the site uncovered could not, at that time, be identified.
In 1689 an inscription was found which referred to a decurion (town councillor) of
Pompeii. Even then, uncertainty remained: many assumed that the site was the villa of a Pompeian councillor rather than the town itself. More time passed. Only when the Bourbon King of the Two Sicilies, Charles III, ordered the site to be excavated did the truth emerge. He had already employed a Spanish military engineer, Colonel Roque de Alcubierre, to explore Herculaneum, where work had begun in 1738. Ten years later, Alcubierre was directed to Pompeii. His primary mission was to recover art objects for the royal collection, but his work soon revealed that it was indeed the lost town. Any lingering doubt was finally dispelled by the discovery of another inscription, in 1763, which referred to respublica pompeianorum (the municipality of the Pompeians).
Pompeii explored
The subsequent exploration of Pompeii falls into three main phases. For about a century, excavations were sponsored, on and off, by the Bourbon regime. There were also opportunities for other aristocratic antiquarians to acquire ancient art objects from the site. It became fashionable for wealthy grand tourists to return home with suitable items, the academic study of classical art took off across Europe, and neo-classicism became de rigueur among the upper classes.
Pompeii excavated
Digging up art objects is not excavation as now understood. Phase two began in 1860. The Bourbons were overthrown, Italy was united, and an archaeologist, Giuseppe Fiorelli, was appointed director of excavations. Systematic clearance of entire areas of the town followed, in order to understand layout, form, and character. It was Fiorelli who devised the method by which the famous bodies of Pompeii were recovered (by filling voids with plaster-of-Paris before excavation).
State-backed campaigns of mass clearance continued beyond the Second World War. The idea was to reveal the splendours of past Italian civilisation as a new nation-state (and later a fascist empire) was built. The key figure in the later campaigns was Amedeo Maiuri, who, appointed by Mussolini, was superintendent of archaeology from 1924 to 1961.
Pompeii researched
Since Maiuri, mass clearance by armies of unskilled workmen has given way to more targeted excavation by small archaeological teams. As well as seeking answers to specific questions about the AD 79 town, many recent excavations have sought to recover a sequence of earlier phases, in order to build up a history of Pompeii before its destruction. This research-driven programme is challenging many assumptions. Pompeii may have been an Etruscan foundation. It was still a pretty scruffy place in the 2nd century BC. The grand-houses of AD 79 were all relatively new, and they were being endlessly refurbished.
We know more about Pompeii than any other Roman town. It is the benchmark against which we measure and compare discoveries elsewhere. Yet we still have so much to learn.
Pompeii at a glance
What is it? A Roman town
Of what date? c.600 BC-AD 79
What happened to it? Destroyed by volcanic eruption
Who discovered it? An architect's work-gang
When was it discovered? 1594
Who excavated it? Colonel Roque de Alcubierre … and lots of other people afterwards
---
This article is an extract from the full article published in World Archaeology Issue 42. Click here to subscribe