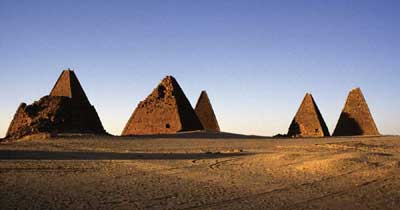 A major exhibition is to be held at the British Museum from September 2004 to January 2005. In this preview we look at some of the highlights of recent discoveries in the Sudan.
Merowe. Here a new High Dam is being constructed which will be second in size only to the Aswan high dam. Excavations in advance look at are revealing a number of the small-scale pyramids erected in this area.
Sai. The island of Sai was the site of the most extensive Egyptian colony in the Sudan. Recent work has also discovered unexpectedly some Palaeolithic hand-axes and a long Palaeolithic sequence.
Kerma is another huge site, but the capital of the native Sudanese peoples, who flourished when the Egyptians were weak.
Old Dongola and Bangarti. Christianity flourished in the Sudan, and was not overwhelmed by Islam till the 14th century. At Bangarti two magnificently decorated churches have been revealed, one on top of the other.
---
This article is an extract from the full article published in World Archaeology Issue 6. Click here to subscribe