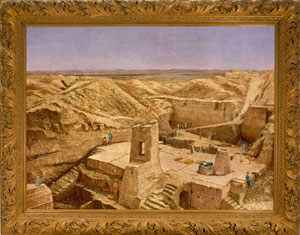 The Director's Office in the Penn Museum is distinguished by the majestic oil painting mounted in a gilded baroque frame. In some ways it is a paradox to exhibit this great painting in one of the Museum's major reception rooms because the circumstances it depicts caused a searing scandal exactly a hundred years ago in 1910. This autumn, to commemorate this troubling story, Penn professors Robert Ousterhout and Renata Holod, are borrowing the painting to be the centrepiece of their exhibition, recalling this difficult time in the museum's early history.
The picture depicts the Museum's first, often calamitous, expedition to Nippur – Mesopotamia – spanning 8 seasons between 1889-1900. The picture is by Osman Hamdi Bey (1842-1910), the first Director of the Ottoman Antiquities Service, who was also an artist, trained in Paris. This painting features a huge excavation of Nippur's so-called Temple Library, dark and quarry-like, in a remorseless desert far from a river lined with verdant rushes. It is a barren scene in which the individuals, including the Museum's leading-light German Assyriologist Herman Vollrath Hilprecht (1859-1925), are dwarfed by the monumental scale of the dig and the exposed ruins. (Hilprecht is depicted examining an array of large earthenware pots.)
In this inhospitable place, plagued by hostile tribes, the University of Pennsylvania's Babylon Exploration Fund, lured by a library of cuneiform tablets, gave first shape to its future Museum. Hence, this painting was a token, cementing the relations between the Ottoman Director-General and the American University. But in 1905 the University's principal investigator, Hilprecht, was charged with 'literary dishonesty' by a board of enquiry set up to review the messy aftermath of the dig.
---
This article is an extract from the full article published in World Archaeology Issue 41. Click here to subscribe