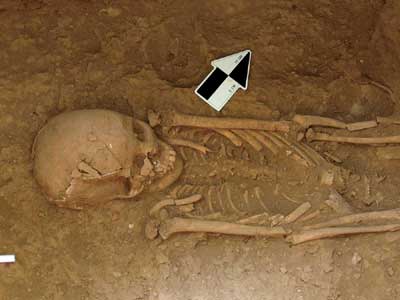 Was China the fount of 'all things civilized' in South-East Asia? Or was agriculture a local development, and bronze-working technology a direct import from Central Asia? In her quest for answers, Joyce White, of the University of Pennsylvania Museum of Archaeology and Anthropology, has just set up a new project in the Middle Mekong Basin in Laos.
Laos is a little-known, land-locked country with a recent history of terrible violence. It lies at the very core of South-East Asia and may contain solutions to many archaeological puzzles. Yet despite this, the area has been barely researched, providing a rare working environment for any archaeologist.
There is a debate over whether bronze metallurgy in Thailand came from early dynastic China after c.1500 BC, or directly from Central Asia by c.2000 BC. Because of its geographically intermediate position and rich copper and tin resources, Laos could provide key evidence. Proof of an early direct transmission route from Central Asia would be an astonishing revelation of the speed and distances by which bronze-working technology spread through the Asian Old World in the late 3rd millennium BC.
Another debate concerns the origins of agriculture. The prevalent view holds that rice agriculture spread into previously non-agrarian South-East Asia c.2300 BC, and that it had its origins in China's Yangtse Valley. However, there is an alternative view that the earliest development in South-East Asia is a complex story going back at least a further 2,000 or 3,000 years, involving the indigenous exploitation of many species of plants and animals, and with less emphasis on geographic spread from outside the region of a single cereal crop.
New data from Laos could resolve these debates. Indeed, given the geographically intermediate position of Laos within South-East Asia, many fundamental debates are irresolvable without greater knowledge of Lao archaeology.
We have set up the Middle Mekong Archaeological Project (MMAP) in order to explore the middle reaches of the Mekong River basin. It is a joint research program between the University of Pennsylvania Museum and the Department of Museums and Archaeology in Laos (DOMA), under the co-directorship of Bounheuang Bouasisengpaseuth and myself. In the late 1990s, Laos became receptive to collaborative research with western countries, and I made my first visit to explore the potential in 2001.
The Mekong: an ancient river road?
Geopolitics has prevented archaeological exploration of Laos for most of the 20th century. However, because it lies along vast stretches of the largest river in South-East Asia (the Mekong is the 12th longest river in the world), Laos seems likely to hold important evidence for human interactions over several thousand years. Many archaeologists think that rivers were the highways of the past, the means of travel, trade, migration, and communication. Many of the world's great rivers hosted important civilizations – the Nile that of Ancient Egypt, the Tigris and the Euphrates that of Mesopotamia, and the Yellow that of Early Dynastic China.
Much of the Mekong flows through countries that have been inaccessible to archaeologists for some decades and are only now opening up to research – China, Myanmar (Burma), Laos, Cambodia, and Vietnam. However, archaeological research since the 1960s in a portion of the Mekong Basin lying in North-East Thailand has shown that the watershed nurtured vibrant agricultural societies, such as the famous Ban Chiang culture. Our knowledge of the people of Ban Chiang and related sites between 2100 BC and AD 200 – they were, amongst other things, makers of beautiful pottery, bronze jewellery, and other artefacts – shows the potential of Mekong archaeology. Yet, where this technologically precocious Ban Chiang culture came from has never been determined.
---
This article is an extract from the full article published in World Archaeology Issue 30. Click here to subscribe