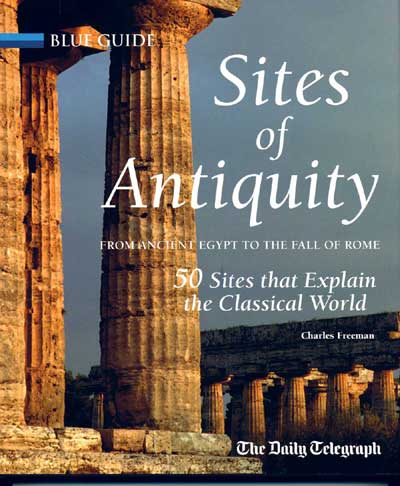 From the pyramids of Egypt, to St Catherine's Monastery in Sinai, via the Parthenon, Petra, and Pompeii, Charles Freeman's latest book covers 50 iconic sites that trace the development of Classical civilization over the vast area that became the Roman Empire.
This jaunt across the ancient world is a new venture from the makers of the excellent Blue Guides travel series. However, gone is the information on hotels, car hire, or opening times; banished is the pocket-sized, closely-typed format. Rather, this is a handsomely illustrated coffee-table book, published in glorious high-gloss, and intended to be enjoyed at leisure. Nonetheless, as is expected from a regular Blue Guide, it is replete with clear plans, time-lines, and boxed-up pieces on allied topics, allowing the reader to explore such subjects as The Vindolanda Tablets, or indeed Christianity as a Mystery Religion.
Offering a good, clear introduction to the wider Classical world, this book would make the perfect Christmas gift for any travel-hungry friend who wants to skip lightly across many of the world's most alluring sites – without ever leaving their arm-chair.
---
This article is an extract from the full article published in World Archaeology Issue 38. Click here to subscribe