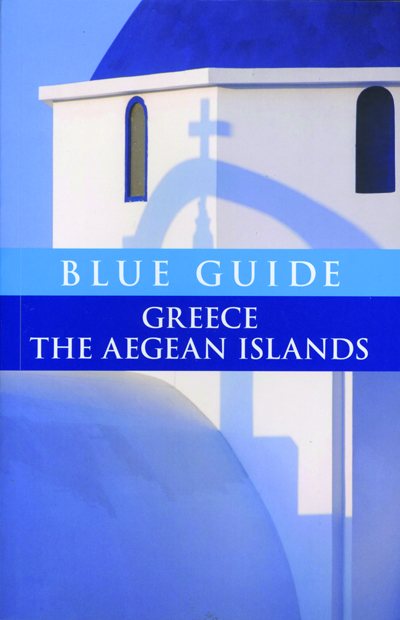 The Blue Guides have come under new ownership. Many readers of Current Archaeology will know and cherish the Blue Guides which have taken over from Baedeker as being the constant companion of the archaeology enthusiast. Originally they were an offshoot of the Hachette's Guides Bleu, but then they were taken over by Benn under whom they flourished, and then by A & C Black. Recently they have fallen on hard times, for it is difficult to persuade book shops to hold stock of what are essentially specialist publications. Now however, they have been rescued by Somerset Books which is, in effect, Annabel Barber, who lives in Budapest, though the books are published from London.
The new series makes a splendid entry with a fine guide to Greece, the Aegean Islands. This is written by Nigel McGilchrist, who is an enthusiast for the Aegean Islands and has spent many years studying them, enjoying them and visiting them all. When he delivered his text it turned out to be the equivalent of 1,200 pages. This was longer than the Blue Guides could accommodate, and so a compromise has been reached: Mrs Barber set two editors to work, and the text has been chopped down to a mere 680 pages. This is still a bit long, and though it does not feel too heavy, I suspect many CWA readers will have to commit the ultimate sin and cut the book up into manageable sections – a fate my Blue Guides have suffered all too often, but they have to be able to fit into my bag. However, Nigel still wanted his master work to be published, so he has done it himself in a series of 20 books, priced at £9.95 each, or £150 for the complete set (details from www.networkbooks.biz). These smaller, more manageable volumes will easily fit into a pocket.
They are, dare I say it, a little bit amateurish in appearance, but then they have been produced on a shoestring and their appearance adds to their charm. The idea is that each book will be on sale in every newsagent on the appropriate island, so you can buy them when you get there. However, readers of CWA visiting the Aegean Islands will, I am sure, want to buy the books before they leave, alongside the Blue Guide and, of course, the Rough Guide for details of restaurants, though the archaeology in the Rough Guides is often surprisingly good. (The Rough Guide to Greece was the first of the series, written by supremo Mark Ellingham in person as an impoverished student: the whole mighty Rough Guide empire sprang from it).
---
This article is an extract from the full article published in World Archaeology Issue 44. Click here to subscribe