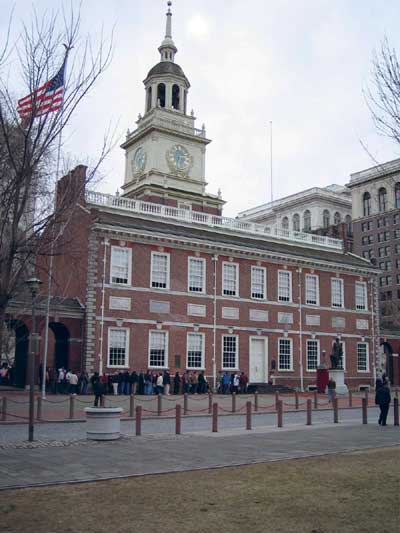 Philadelphia is first and foremost a colonial capital that, in 1776, became the epicentre of the American Revolution. Like any great capital caught up in historic change, while it undoubtedly harbours a nostalgia that dominates the present, it also boasts streets of world class architecture besides many largely unknown archaeological monuments. Unlike Dublin or Edinburgh, it has permitted its eclipse by other more modern cities close by, and allowed the depression wrought by its declining industrial sectors to cloud its international importance. Philadelphia, in short, undersells itself.
The Quaker, William Penn (1644-1718), Philadelphia's charismatic but capricious founder, created a planned city worthy of the 5th century Greek architect, Hippodamos of Miletus. Set inland from the flat coastal littoral of Maryland, close to the confluence of the Delaware and Schuylkill rivers, this was a safe harbour with the woods and dales of Pennsylvania beyond. Penn forged a good, if advantageous, relationship with the benign Lenape Indians (the subject of a new exhibition, see end box) and as a result Philadelphia grew quickly and successfully to become the second English-speaking city in the 18th century world. Something of this history can be learnt in Welcome Park, the plaza close to Penn's Landing in Philadelphia's colonial district, a few hundred yards in from the Delaware (and the Independence Seaport Museum). The gridded streets established by Penn exist today, so between 3rd and 4th street, for example, lay Benjamin Franklin's House. Although razed in 1812, a ghost of a white steel frame depicts the outlines of the house above the misted-up remains of the excavations, extant beneath. Around it are Georgian town-houses worthy of Bath, as well as a museum dedicated to Ben Franklin. Up the street is the Carpenters' Hall, a modest but intimate guild-house that housed the first revolutionary congress in 1774. Close by, too, is the City Tavern, dating back to 1773, where maids in 18th century dress still serve good Pennsylvanian ales and food.
---
This article is an extract from the full article published in World Archaeology Issue 38. Click here to subscribe
Enjoyed this article? Click here to read more by subscribing to CWA magazine.