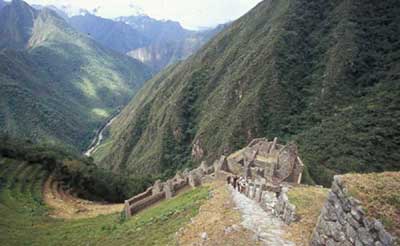 For those of you inspired by Paul Woodfield's walk along the Great Wall of China, the Parkinson's Disease Society (PDS) is looking for participants for their next sponsored trek.
This time, walkers will explore an ancient Peruvian paradise during a unique and exclusive trek across South America, from 4 to 14 October 2008. The eight-day adventure will encompass remote valleys and neglected ruins, away from the hustle and bustle of the main Inca Trail.
Peru is one of the most archaeologically rich areas of the world, with a bounty of temples, tombs and treasures. This trek is a rare opportunity to explore these hidden gems, experiencing some of the most spectacular and varied scenery in South America. Participants will experience Peruvian culture, visiting villages and gaining an insight into the local traditions and history.
Trek Peru begins and ends in Lima, the capital city and cultural and economic hub of the country.
On day two, participants will take a short flight to Cuzco, the ancient Inca capital, which is said to have been founded in 1100 AD and is considered to be the oldest continuously inhabited city in the Western hemisphere. From there the trek will follow the contours of the Sacred Valley to the ruins at Huina Huayna and finally on to the Sun Gate and the spectacular ruins at Machu Picchu. Designated a UNESCO World Heritage Site in 1983, Machu Picchu was the bastion of the Incan Empire, surviving in isolation after the Spanish invasion because of its remote position on the steep slopes of the Andean mountain range.
Hugo Middlemas, Director of Fundraising at the Parkinson's Disease Society, said: 'This is a wonderful opportunity to explore a beautiful country and a lost civilization, while raising money for an important cause. It will be a demanding challenge, with lots of hill walking and high altitudes, but the scenery alone will make it worthwhile.
The money raised from the trek will go towards providing new services and support for people with Parkinson's across the UK.'
To sign up or to get more information about Trek Peru 2008 please contact the Events team at the Parkinson's Disease Society on 020 7932 1356 or email [email protected].
Alternatively you can visit the PDS website at www.parkinsons.org.uk/expeditions.
---
This article is an extract from the full article published in World Archaeology Issue 25. Click here to subscribe