Ceramics of the Ancestors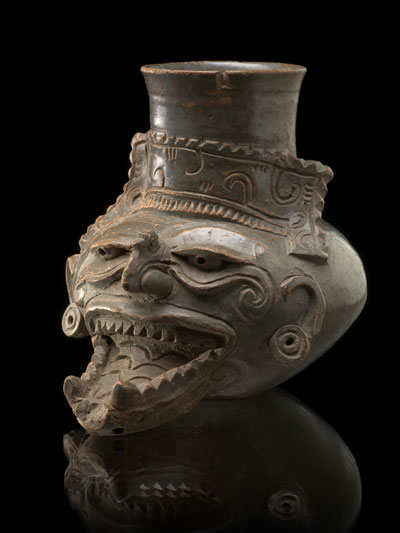 Central America's ancient past at the Smithsonian Institution
By 1500 BC, the inhabitants of Central America had settled in large villages. This more sedentary lifestyle and the development of maize farming that came with it allowed rapid population growth, and the evolution of complex and sophisticated forms of organisation, religion, and art. The growth of trade networks into South America and the Caribbean brought with it an influx of new knowledge, political and religious ideas, and artistic influences, as well as access to a wealth of new objects.
A case in point is 'Farm Two', a settlement dated to 900-200 BC in the Ulúa river valley, Honduras. Here, excavations have uncovered hundreds of artefacts including jade and shell beads, and blades and mirrors made of obsidian – materials imported from as far as 250km (150 miles) away. Together with locally produced pots were wares from Belize and Guatemala, highlighting the far-reaching connections and rich material culture available to even a small, rural village at this time.
This theme is taken up by 'Cerámica de los Ancestros: Central America's past revealed', a new exhibition at the Smithsonian's National Museum of the American Indian that explores the material cultures and social structures of the inhabitants of regions now covered by Belize, Costa Rica, El Salvador, Guatemala, Honduras, Nicaragua, and Panama, from 1000 BC to the present day.
Over 160 ceramic objects, from incense burners and elaborately decorated bowls to religious figurines and musical instruments, illuminate these complex and diverse communities, while artefacts made of gold, jade, copper, marble, shell, and stone highlight their wide trading contacts.
The exhibition also considers the impact that the arrival of Europeans in the 16th century had on indigenous peoples, tracing how some communities strove to maintain their distinct identities and others merged with the new culture. Presented in Spanish and English, this is as much the story of the Centroamericanos, the largest group making up Washington DC's modern Latino communities, as it is of their ancient ancestors.
DETAILS
CERÁMICA DE LOS ANCESTROS:
CENTRAL AMERICA'S PAST REVEALED
Dates: until February 2015
Admission: free
Hours: 10.00-17.30 daily
Address: National Museum of the American Indian, 4th St and Independence Ave SW, Washington, DC, 20560
Web: www.nmai.si.edu
---
This article is an extract from the full article published in World Archaeology Issue 59. Click here to subscribe