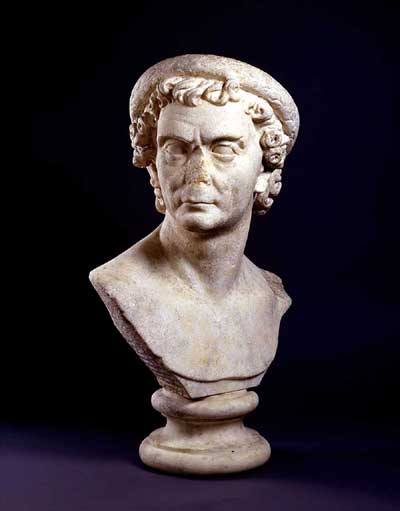 Currently on exhibition at Oxford's Ashmolean Museum is an example of what many art historians regard as the Romans' most significant artistic contribution: the portrait bust.
The remarkable marble portrait, newly acquired by the museum through a London dealer, is now on permanent display in the Ashmolean's Randolph Sculpture Gallery. The distinguished individual frowns slightly as he turns his head in a dramatic posture and stares out at us from his large eyes. His heavy laurel-leaf crown, and his longish curly hair suggests that this may be the head of a priest. The forceful energy of his pose draws strongly upon Hellenistic Greek ideas of what it meant to be a man of power, specifically the vigour and energy needed to perform a senior role in public life.
To the modern viewer, it is the realism of the bust that is particularly striking. The sculptor has captured age-lines on the brow and below the eyes, the subject's large ears and his thin lips. Such rendering of personal features draws upon Roman traditions of portraiture. These would have been absorbed by élite society in the cities of the eastern provinces of the Roman Empire by the time this bust was commissioned at the turn of the first and second centuries AD.
The portrait is linked with the collection of Lord Elgin by the circumstances of its 20th century collection history. It passed by descent from a worker on the Elgin estate, where it is said to have been found in a pile of rubble in the village of Culross. Specialists believe that the bust originates from Greece or western Turkey, where the Elgin collection was acquired. Among a small number of similar portraits, the closest is a bronze roundel with a portrait of a man wearing a similar wreath that is held in Ankara.
---
This article is an extract from the full article published in World Archaeology Issue 12. Click here to subscribe