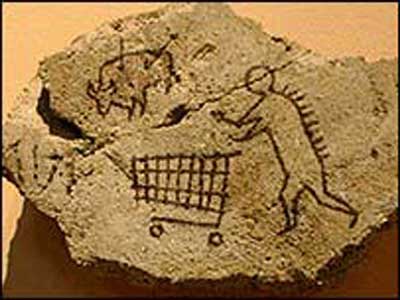 Fake prehistoric rock art of a caveman with a wire shopping trolley has been hung on the walls of the British Museum.
It was put there by art prankster Banksy. Bad Banksy, who has previously put works in galleries in London and New York, added a sign 'early man venturing towards the out-of-town hunting grounds'. A British Museum spokeswoman said they were 'seeing the lighter side of it' and that it had only gone unnoticed for one or two days (three days according to Banksy).
The British Museum praised the way his rock was hung and the style of the sign, which was 'very similar' to their own design. On his sign, he even managed to defy the difficulties of dating rock-art by explaining 'This finely preserved example of primitive art dates from the Post-Catatonic era.'
Graffiti-artist Banksy has attracted a cult following for stencilled designs that satirise authority and modern society. His rock-art is now being exhibited at Banksy's new show, Outside Institute, with the legend 'on loan from the British Museum'. The British Museum spokeswoman said they were expecting it back when his exhibition ends in June. 'He has said to us that we can keep it,' she explained.
---
This article is an extract from the full article published in World Archaeology Issue 12. Click here to subscribe