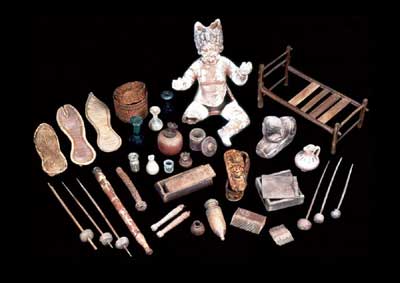 University College London's Petrie Museum of Egyptian Archaeology has won the Classic Award at the Museum & Heritage Awards for Excellence 2005, which celebrates best practice within museums, galleries and heritage visitor attractions.
The Classic Award is for 'a museum that has been open for ten years or more, and that has continued to develop year on year ensuring it remains as relevant and interesting to target audiences as on the day it opened.'
Hugh Kilmister, acting manager of the museum, said that 'The nomination is tremendously important recognition for us'. Hugh added that the museum remained relevant for academics and visitors, and emphasised some of their new initiatives, including outreach programmes for schoolchildren and, notably, the creation of a monumental on-line artefact catalogue.
The Petrie Museum, hidden away next to one of UCL's libraries, is perhaps one of the capital's less well-known gems. Created in 1892, the museum – named in honour of Professor William Flinders Petrie, UCL's first Professor of Archaeology – houses an estimated 80,000 objects, which makes it one of the greatest collections of Egyptian and Sudanese archaeology in the world. While 90% of these artifacts are in stores, a cornucopia of goodies is on permanent display to the public. Together, these objects comprehensively illustrate life in the Nile Valley from prehistory through the time of the pharaohs, the Ptolemaic, Roman and Coptic periods to the Islamic period.
Though so little of the collection is currently on display – due to the cramped and poor quality conditions of the museum – big changes are planned to take place in around 2009. 'Then, the entire prize-winning collection will be re-housed in an important new development, UCL's Panopticon', Sally MacDonald Director of the Panopticon Project, informed CWA.
The Petrie Museum, Malet Place, London, WC1E 6BT. www.petrie.ucl.ac.uk
---
This article is an extract from the full article published in World Archaeology Issue 12. Click here to subscribe