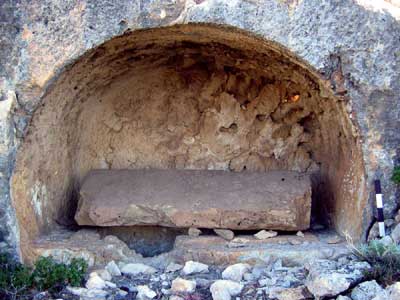 Back in April 05, CWA visited The British Institute at Ankara (BIAA) and spoke to Director, Hugh Elton, about some of the archaeological work being undertaken by the UK-funded Institution in Turkey. Last April, Hugh and his team were centering their attention on publishing the rescue excavations that had resulted from the construction of the Baku-Tblisi-Ceyhan pipeline, which cut its way from Azerbaijan through to southern Turkey. Since our visit to Ankara, the BIAA has been busy working on a glut of other sites throughout Turkey. In the following 'View from the Field', Hugh Elton takes a look at some of the key sites investigated by his own research project during the Autumn season.
Our Autumn fieldwork focused on the Göksu Valley – an area lying in the Taurus Mountains, north of Mut and south of Karaman. There, we resumed extensive survey work begun in previous seasons. This task was given particular urgency owing to the planned construction of a dam north of Mut, which when built will flood large areas of the Upper Göksu valley to a height of 305m above sea level. Our survey is especially important since little archaeological investigation has taken place (although a previous BIAA Director, Michael Gough, excavated at the local sites of Aloda, Alahan, and Dagpazari; of these Aloda – a rock-cut church dating to some time after the 9th century – is particularly stunning).
Overlooking the soon-to-be-flooded Göksu Valley is one of Turkey's most spectacular sites: the 5th to 6th century AD Christian buildings at Alahan. The late antique ecclesiastical complex of Alahan is built on a series of terraces towards the top of a mountain. The buildings include two basilicas (east and west), a baptistery, cave church, and a small necropolis, and some scholars think that the site may have served as a pilgrimage centre. Turkey is currently trying to add Alahan to the UNESCO World Heritage list. Although Alahan itself will not be flooded, building the dam will mean the loss of information about the site's hinterland.
Last season, the Göksu team' undertook extensive survey in the regions surrounding Alahan to develop our knowledge of the city's hinterland, which abounds with rock-cut features. For example, on the slopes close to the rock-church at Aloda, we discovered, and planned, an extensive series of rock-cut rooms. One of these had a small rock carving. Combined with earlier work, this now shows the city at Alahan as lying at the centre of a spread of cultural material covering an area of approximately 2 x 2km, with several dependent villages. Work at the villages of Burun, Karacaagaç, Geçimli, and Karabag has also led to many new discoveries. These included 22 wine presses, including one with a weight still extant, as well as four olive presses. This brings the total number of wine presses discovered in 2005 to 35. As a consequence, it would appear that the local economy was dominated by wine production (a situation that has now changed, perhaps because viticulture is now not as attractive economically). It is also apparent that olive production also occurred – but at higher altitudes than is now the case. A number of tombs were also discovered, including a large freestanding garlanded sarcophagus and a smaller number of rock-cut rooms.
Among other sites under threat from flooding by the dam, and recorded by our team, are a number of prehistoric sites, such as the Bronze Age site of Çömlek Tepesi (prehistoric evidence dating back to 200,000 BC has been found in the area); plus a much more recent rock-cut cemetery, below the Mut-Karaman road. At the rock-cut cemetery which, according to the pottery found therein, probably dates from the late Hellenistic to early Roman eras, we recorded and photographed all the tombs (numbering around 180), and even located several new tombs. Though we noted several areas of illegal excavation, enough data have been retrieved to build up a picture of the ancient cemetery and the burying population. Of particular interest is the considerable social differentiation noted between the tombs within the cemetery. Thus, while most tombs were fairly simply constructed, a few were more elaborate, and no-doubt would have contained richer grave-goods.
We are now turning our attention to the Spring season: fieldwork will resume in May, when we hope to continue survey work in the Göksu valley
---
This article is an extract from the full article published in World Archaeology Issue 15. Click here to subscribe