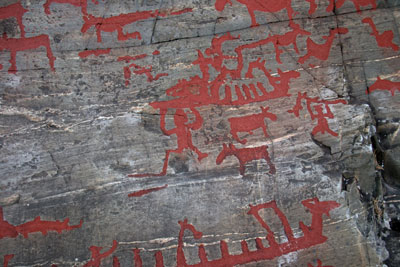 New research using computer technology to unpick overlapping layers of rock art has shed light on how the ideas and interests of prehistoric communities changed.
Between c.4500-3000 BC, early artists at Nämforsen in Sweden, and Zalavruga in Russia, tended to carve elks in silhouette, Cambridge University archaeologist Mark Sapwell said. But by 2000 BC these images were superimposed figures of the animal in outline.
Cultural and technological shifts can also be recognised in the artwork: experimentation with human-animal hybrids between 4000-3500 BC may suggest developing animist or shamanistic ideas, while the appearance of carvings of boats shows the increasing importance of long-distance travel and trade.
'Seeing the popularity of images changing is an exciting part of this study,' Sapwell told CWA. 'At Nämforsen there is a big shift from elk to boat images, as if the "topic to talk about" changed from land to water around c.2000-1800 BC, when travel and exchange between communities was becoming more important than ever.
It is around this time that we see more intense interactions with southern Scandinavia, and find Baltic amber as far afield as Lake Garda in Italy.'
---
This article is an extract from the full article published in World Archaeology Issue 54. Click here to subscribe