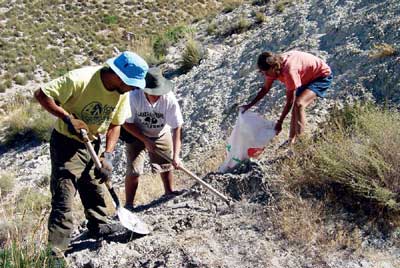 As the summer sets in, how about exchanging your luxury hotel for a cave house, or swapping days spent lying on the beach for digging the dry austere Guadix-Baza basin in Southern Spain? Tempted? International charity Earthwatch is looking for people who are willing to get their hands dirty in an effort to reconstruct Europe 1.7 million years ago.
Earthwatch teams have dedicated the last four years to collecting evidence of early human activity in Europe, but they need the help of volunteers to continue their research. The project is centred on the Orce region of Andalusia where human skeletal remains plus human-made tools have been discovered. They provide the oldest evidence of human presence in Western Europe.
'Participation on the project is a unique experience that can bring great personal satisfaction and enjoyment.' says leading palaeontologist Dr. Josep Gibert Clols. All budding palaeontologists, skilled and unskilled, are invited to help uncover the past. Full excavation training will be given and volunteers stay in their own private caves (each equipped with hot showers!) at the margin of the basin and surrounded by high mountains.
Four separate two-week sessions are due to run between July and September, at a cost of £1,190, which covers all food, accommodation and training. For more information please visit www.earthwatch.org/europe or call 01865 318831.
---
This article is an extract from the full article published in World Archaeology Issue 12. Click here to subscribe