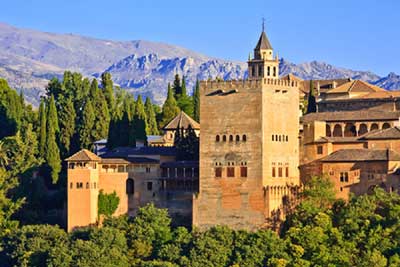 Scientists have found evidence that structural damage to the Alhambra is due to seismic activity.
A world heritage site, the Alhambra is one of the most visited monuments in Europe. Overlooking the city of Granada, the breathtaking Alhambra Palace is perhaps the most famous example of Moorish architecture, and one of the world's best-known Muslim constructions. However, the Granada Basin, in which the Alhambra lies, is in one of the most seismically active zones in the Iberian Peninsula.
Historical evidence shows that the last major earthquake occurred there in 1431. But new evidence indicates that the area surrounding the Alhambra has been undergoing recent and recurrent, though moderate, seismic activity.
The research carried out by scientists in Granada, and published in the Journal of Quaternary Science, reports that although the structural damage displayed by the Alhambra is far from significant, it seems that the cracks can be related with underlying faults that are possibly seismically active.
Some of the cracks show a geometrical continuity with fault planes in the underlying conglomerates, while collapsed segments of a wall surrounding the Alhambra coincide with underlying faults that cut Quaternary soil levels.
Based on their observations of the Alhambra Formation and the surrounding geomorphological evidence, the researchers have described the seismic risk associated with the faults of the Alhambra and surrounding areas as moderate.
---
This article is an extract from the full article published in World Archaeology Issue 5. Click here to subscribe