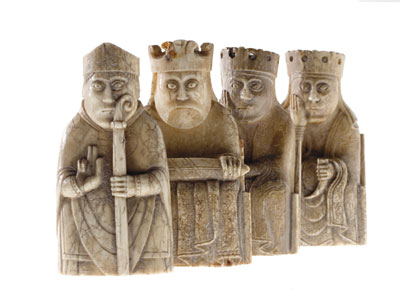 Scandinavian and British experts meeting at an academic conference in Reykjavík have been debating the origin of the 12th-century Lewis Chessmen, a hoard of walrus ivory gaming pieces found in 1831 on Scotland's Isle of Lewis, one of the most significant archaeological discoveries ever made in Scotland.
The British Museum, which subsequently acquired 82 of the 93 figures, has recently loaned them to National Museums Scotland for a series of a 'homecoming' exhibitions that have stimulated a new wave of research into the origin of the chessmen.
One assumption being challenged is the question of where they were made. Norway has always been the favoured place of origin because of stylistic similarities between the Lewis gaming pieces and others known to have been made in Trondheim. This theory has now been upset by the finding in July 2010 of a chess figure at Siglufjordur, on the north coast of Iceland. This figure, of similar style and date to the Lewis pieces, was probably made in the known historic Viking craft workshop at Skálholt near Reykjavík in the 12th or 13th century.
Icelandic scholar Gudmundur Thórarinsson has gone further still, claiming that the 800-year-old Lewis Chessmen were carved by the same craftsmen. He points not only to stylistic similarities with the Lewis chess pieces, but also to the fact that Iceland at the time was colonised by Norse-Gaels from the Western Isles of Scotland, establishing regular trade links between Iceland, Scotland, and Norway.
His main argument rests on the claim that the use of bishops in chess originates in Iceland, and that contemporary chess sets in Norway use figures called 'runners' or 'messengers' in place of bishops. If he is correct, then renewed interest will focus on the Skálholt workshop, founded by Bishop Páll Jónsson (1155-1211), the ruins of which, along with its waste heaps, have never been excavated.
---
This article is an extract from the full article published in World Archaeology Issue 49. Click here to subscribe