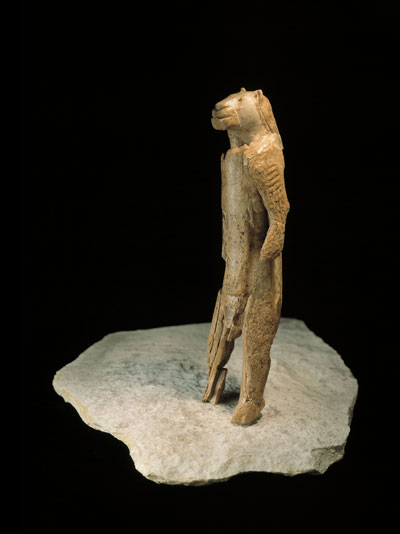 Archaeologists returning to the spot where the enigmatic 'Lion Man' was found 74 years ago have announced the discovery of almost 1,000 new fragments of the mammoth ivory figure – and new dating evidence that could put it among the oldest figurative sculptures in the world.
The first pieces of the Palaeolithic statue were excavated from the back of Stadel Cave in the Swabian Jura by Robert Wetzel and Otto Völzing in 1939. About 200 of the larger fragments were refitted in 1969, and further conservation was done in 1989, but 30% of the sculpture was still thought to be missing.
Now, archaeologists led by Professor Claus Joachim-Kind of Tübingen University have re-excavated the cave, using Wetzel's notebooks to locate the original findspot. In the same section the team found hundreds of ivory fragments, as well as perforated arctic fox teeth and ivory beads. Calibrated radiocarbon age estimates from these suggest that the Lion Man is c.40,000 years old, significantly earlier than previously thought.
'We always used to say that the statue was 32,000-34,000 years old, but this work suggests that it is much older,' said Jill Cook, curator of the British Museum's current Ice Age art exhibition (CWA 57). 'We are confident that the ornaments and ivory fragments come from the same context as the Lion Man, as it is clear that the sections have not been disturbed since Wetzel's excavations.'
Conservators at the State Office for Cultural Heritage in Baden-Württemberg are now taking apart the 1989 reconstruction to incorporate some of the newly-discovered fragments, as well as pieces from the original excavation that could not be fitted previously due to other missing elements. Jill told CWA that the painstaking process, expected to be completed in November, had already transformed the appearance of the figurine.
'The sculpture may end up about 2cm (0.7in) taller when the reconstruction is complete; the new pieces have slightly elongated the neck, making it even more feline in appearance,' she said. 'The head now looks more dynamic and natural, and the team have also identified parts of the statue's missing arm, as well as restoring the damage on the back.'
---
This article is an extract from the full article published in World Archaeology Issue 58. Click here to subscribe