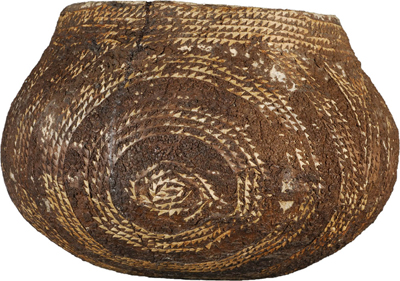 Thanks to preservation under waterlogged conditions, a well in the federal state of
Saxony, Germany, has revealed unprecedented information about woodworking skills, diet, and ritual in early Neolithic Europe. Found in early 2008 at Altscherbitz, during construction work on the Leipzig/Halle airport, the well was carefully isolated and extracted from the ground in one block for excavation under laboratory conditions under the direction of Rengert Elburg of the Saxony State Office of Archaeology.
Heavy oak timbers were used to line the well, held together by mortise and tenon joints secured by wedges, the first time this type of keyed tenon joint has been recorded for the early Neolithic. On one piece of wood, the last ring under the bark was present and this allowed the felling of the trees to be dated precisely to the winter of 5102-5101 BC.
Complete ears of emmer wheat (Triticum dicoccum) and einkorn (Triticum monococcum) were found in the base sediment, as well as fruits of the bladder cherry or Chinese lantern (Physalis alkekengi) and several complete rose hips, some of them still as red as the day they were picked over 7,000 years ago. Cultivated wheat, barley, peas, lentils, linseed, and poppy seed were all present, as well as weeds associated with human habitation and cultivation, including large quantities of henbane (Hyoscyamus niger), the poisonous solanaceous plant used in very small doses for its hallucinogenic properties.
At some stage the well shaft was deliberately filled with a rich mix of pottery, stone and bone tools, bark containers and numerous fragments of string and rope, all mixed in with layers of twigs. Above these layers, a pot was placed, formally closing the well.
This was clearly a vessel of some significance, Rengert Elburg says. Extensive damage to the exterior suggests that it started life as a heavily used domestic pot, with a very slight incised decoration, typical of Linear Pottery Culture. When it broke in two it was mended by gluing the halves together with pitch. The repair was reinforced by binding the two halves together through holes drilled on either side of the break. Then the outside surface of the pot was completely redecorated by covering it with a thin layer of pitch into which narrow strips of birch-bark were stuck in a design completely unrelated to the incised pattern underneath. Traces of wear on the base suggest that the pot continued in use with this new decoration for some considerable time before being carefully placed in the well.
---
This article is an extract from the full article published in World Archaeology Issue 43. Click here to subscribe