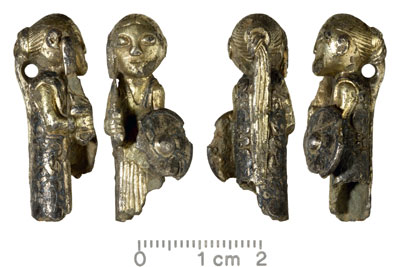 A small silver figurine, found on the Danish island of Funen, is the first-known 3D representation of a valkyrie from the Viking Age, archaeologists say.
Images of armed women interpreted as valkyries – literally 'choosers of the slain', companions of the god Odin, who in Norse mythology are sent to battlefields to fetch warriors fated to die – are known from a handful of brooches, as well as on 8th-century picture stones in Sweden, but until now this motif had always been depicted in 2D.
The 3.4cm (1.3in) figurine, which was found by a metal detectorist in a field outside Hårby, and has been dated to c.AD 800, depicts a woman wearing a long, patterned dress. Her hair is tied in a knot at the back of her head, behind which is a small hole – perhaps an eyelet for a string, allowing the figurine to be worn as a pendant – and she is shown holding a sword and a round shield.
'There can be hardly any doubt that the figure depicts one of Odin's valkyries, and the fact that she is 3D makes her truly exceptional,' said Mogens Bo Henriksen, curator and archaeologist at Odense City Museums. 'Fortunately the finder was accompanied by three skilled amateur archaeologists who often work with staff from our museums, so the findspot was precisely documented before the figurine was brought to us.'
Decorated with gilding and niello, the figurine was discovered in the workshop area of a Viking Age settlement, where 12 years ago excavations had uncovered the remains of sunken huts and evidence of occupation from the 7th-11th centuries.
Mogens added that the unique figurine, whose lower legs and feet had been broken off at some point in its past, may have had a narrow escape from being cut up for reuse.
'She was found with other pieces of scrap silver, probably raw material on its way to the melting pot,' he said. 'For some unknown reason she didn't get that far – which is our good luck!'
The figurine is now on display at the National Museum in Copenhagen, and will later form part of the Viking exhibition due to open at the British Museum in 2014.
---
This article is an extract from the full article published in World Archaeology Issue 58. Click here to subscribe