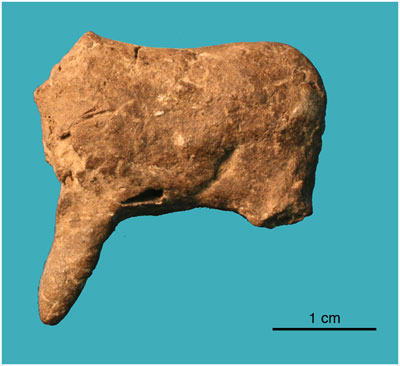 Excavations in Croatia have uncovered evidence of Palaeolithic artists who were modelling ceramic figurines at the end of the last Ice Age – thousands of years before the use of practical pots in the region.
University of Cambridge/Vela Luka (Croatia) Centre for Culture investigations at Vela Spila, a large limestone cave in the central Dalmatian archipelago, found 36 fragments thought to be broken model animals.
One of the better preserved finds appears to depict the torso and foreleg of a horse or deer, while another piece may show the hind legs of a more robust animal.
Carefully crafted with minimal joins – perhaps to increase structural strength – the objects have been marked with incisions, grooves, and punctured holes, while on some the artists' fingerprints can still be seen.
The finds have been radiocarbon dated to 17,500-15,000 years ago and belong to a culture that flourished for 2,500 years but then vanished. Ceramics did not reappear in the area until 8,000 years later, when the material was being used to make functional pots.
Cambridge University's Dr Rebecca Farbstein said that while the development of pottery is traditionally associated with the Neolithic period from about 10,000 years ago, regional differences in the uptake of this technology are clear in the archaeological record.
Ceramic figurines with no evidence of contemporary pottery have also been found in the Czech Republic, dating back 31,000-27,000 years, but in China the recent discovery of 20,000 pot sherds (see CWA 54) suggests that some groups were making functional objects long before the Neolithic.
'We cannot be sure exactly why an innovation like ceramic was adopted and later disappears from the record,' Dr Farbstein told CWA. 'However, Vela Spila illustrates how late Palaeolithic society was rapidly changing, and experimenting with new materials and technologies.'
---
This article is an extract from the full article published in World Archaeology Issue 55. Click here to subscribe