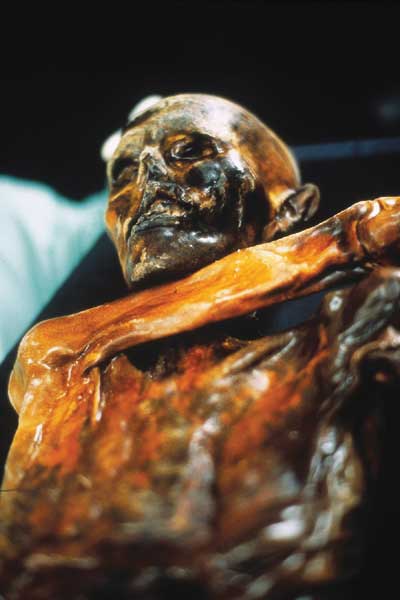 Researchers suspect the corpse of Oetzi, the 5,000-year-old mummy frozen in the Italian Alps might have been contaminated by bacteria since its discovery in 1991.

X-rays have shown up light patches on Oetzi's skeleton. These seem to be bubbles in the bones that could be caused by bacteria, said Eduard Egarter Vigl, who is in charge of preserving the mummy at the South Tyrol Archaeological Museum in Bolzano, Italy. It seems that bacteria might have entered through cracks in the mummy's skin and bones.

Oetzi is kept in an 'igloo' made out of ice tiles to keep him in cold and humid conditions. Museum visitors can view Iceman through a small window. Although he is kept in a sealed-off chamber, if bacteria is found to be present, a programme of disinfection will be necessary to prevent any possible damage to the iceman's remains.

The news that the body might be under threat must present a great worry to the Museum, since the body has been a major source of revenue, such is the high level of his preservation. Thus far, he has provided a wealth of information about the late Neolithic in the region, including insights on technological developments – he was carrying a well-preserved bow, quiver of arrows and a copper axe. Evidence about the man himself has also been forthcoming, such as the fact that his last meals included venison and unleavened bread. Egarter Vigl added that the museum was also considering requests to carry out more research, including DNA tests, to discover further details of Oetzi's life.
---
This article is an extract from the full article published in World Archaeology Issue 12. Click here to subscribe