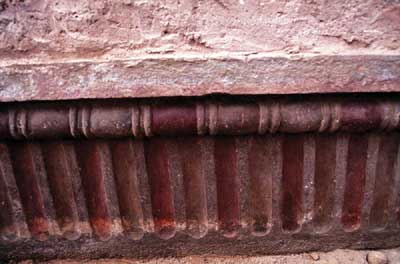 Italian excavations in Turkmenistan, at the site of Old Nisa, have unearthed an extensive archaeological complex that was once part of a flourishing artistic and political centre for the ancient civilization of Parthia.
Old Nisa, located 18km southwest of the country's modern capital Ashkhabad near the border of Iran, is thought to have been founded in the 2nd century BC. It was one of the Parthian Empire's earliest capitals. Its parthian name was Mithradatkirt, or fortress of Mithradates (171-138 BC), after the king who turned Parthia into a powerful empire and one of Ancient Rome's greatest rivals.
Excavations undertaken by the Italian Turin Excavations Centre have been underway since 1990, picking up where earlier excavations by the Russians had left off in the 1950-70s. Their fieldwork has revealed invaluable detail about a citadel encircled by fortification walls. The team has investigated two buildings in the main central complex of the citadel: the so-called Round Hall and the Red Building. The Round Hall was once a marvellous building with a central circular hall 17m in diameter. Roofed by a mud-brick dome it is surrounded by corridors on four sides. The Red Building is a monumental structure whose brick-walls are still preserved to a height of about 4m. It covers an area of 40m by 40m with a central columned square central hall that is 16m by 17m.
Finds from the two buildings include marble statues, and fragments of clay statues. The excavators also found around 40 ivory horns some of which may have been used for drinking. The horns are beautifully worked and their outer rims are decorated with friezes of Classical mythological scenes. All of thse finds are now preserved in the National Museum of Ashkhabad.
One of the most stunning new discoveries is a fragmentary clay portrait of Mithradates, which was found in the Round Hall. It indicates that this building may have been dedicated to the memory of Nisa's founder. And within the hall of the Red Building, the Italian team uncovered a unique frieze of stone slabs that would have originally been placed on the facade of the building. Its original frieze decoration is still distinguishable on its facade, as shown in the photograph below right.
The excavations of Old Nisa show that the Parthian centre was probably intended as a great ceremonial complex. The finds, with their mixture of cultural influences, are also providing good evidence for the interaction between nomadic central Asian, Iranian and Hellenistic traditions.
The Parthian Empire was the most powerful force on the Iranian plateau from the 3rd century BC onwards, intermittently controlling Mesopotamia between 190 BC and AD 224. At one point, its empire occupied all of modern Iran, Iraq and Armenia, parts of Turkey, Georgia, Azerbaijan, Turkmenistan, Afghanistan and Tajikistan. It also briefly held territories in Pakistan, Syria, Lebanon, Israel and Palestine.
---
This article is an extract from the full article published in World Archaeology Issue 11. Click here to subscribe