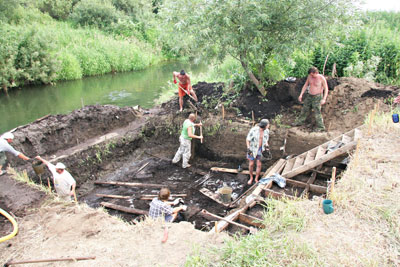 The discovery of 7,500-year-old fish traps in a Russian river valley has given new insight into prehistoric European settlement patterns.
The Mesolithic nomadic hunter-gatherers were believed to move with the seasons to follow food sources. Now excavation at a site in the Dubna river basin outside Moscow shows evidence of continuous year-round occupation.
The three-year investigation by an international team of archaeologists, led by the Spanish National Research Council (CSIC), found evidence that the inhabitants of Zamostje 2 adapted their diets according to the time of year but remained in the same place.
Project leader Ignacio Clemente said: 'We think that fishing played a vital role in the economy of these societies, because it was a versatile product, easy to preserve, dry and smoke, as well as to store for later consumption.'
The boggy, peat-rich soil around the Dubna has preserved tools used by these early fishermen, including two basket-like fish traps woven from pine rods – one of which has a paddle inside it – with some of the vegetable-fibre ropes tying them together still evident. Dating from c.7500 BP, they are among the oldest found in Europe.
During an earlier 11-year excavation, begun in 1989, a range of artefacts was uncovered, including hooks, harpoons, weights, floats, needles for making and repairing nets, and knives made from moose ribs for cleaning and scaling fish. Evidence of their ancient art also survives: moose-head shaped sculptures, small bird and snake figures made from antler and wood, and a large collection of pebbles engraved with geometric designs.
The large quantities of fish remains at the site will help to establish species classification, catch amount and size, and fishing seasons. 'These details will help assess the role of fishing in the economy of these human groups,' said Clemente.
---
This article is an extract from the full article published in World Archaeology Issue 52. Click here to subscribe