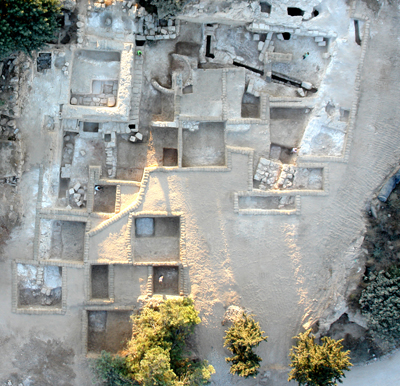 Researchers at Tel Aviv University have uncovered an ancient royal garden at the site of Ramat Rachel, in the Judean Hills, some two miles from the Old City of Jerusalem. The site dates back to the 7th century BC, and is remarkable for its intricate irrigation system. Features include open channels and closed tunnels, stone carved gutters, and the framework for elaborate waterfalls.
According to Professor Oded Lipschits, of Tel Aviv University's Department of Archaeology, the dig is providing an unparalleled chance to study the structure and function of ancient gardens. The team hopes soil analysis and environmental sampling will reveal the plants that were grown in the garden as well as what birds and animals might have been kept.
The site was in use from the 7th to the 4th centuries BC, a period that saw many wars and exchanges of power, with the garden evolving under each civilization. The garden would have been the most prominent feature of Ramat Rachel, visible from the west, north, and south. It would have served as a spiritual function – as a place of peace, tranquillity, and of connection to nature – but also as a symbol of power. 'Control over water indicated political strength and to have a massive and lush green space surrounding one's palace, especially when the surrounding area is bare, would have made a powerful statement about one's status,' says graduate student Boaz Gross.
---
This article is an extract from the full article published in World Archaeology Issue 45. Click here to subscribe