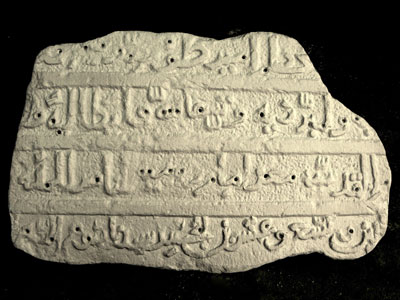 Archaeologists have discovered the only Crusader-period Christian inscription to be written in Arabic. The marble engraving, once part of the city wall at Jaffa in Israel, was long-believed to date to the Ottoman period (1517-1917).
Now Professor Moshe Sharon and Ami Shrager, of the Hebrew University of Jerusalem, have shown that the text, a unique archaeological find, is several centuries older. It declares that The august Caesar the Roman Emperor of Fre[deric], the victorious by [the help of] God [in the year one thousand] two hundred and twenty-nine of the incarnation of our Lord Jesus Christ'.
This is attributed to the Holy Roman Emperor Frederic II who secured Jaffa for the Crusader kingdom during his Sixth Crusade of 1228-1229. The inscription was probably incorporated into the city wall during refortification works in 1229. A similar but more fragmentary inscription in Latin, discovered in the 19th century, is also known from the site. Together the two would have proclaimed Frederic II's achievements to both the native population and Christian newcomers.
Professor Sharon, who is publishing his findings on the inscription in the scholarly journal Crusades, said: 'Following the practice in Norman Sicily [Frederic II's homeland] where multi-lingual inscriptions were common, it suited Frederic to put up two inscriptions in which his grandeur is emphasised.
'There is no doubt that the inscription was designed and composed in the Emperor's chancery by the scribes who accompanied him. It would have been fixed in place on the city wall some time in February 1229 when the building was finished, but before the Emperor left for Jerusalem in March.'
---
This article is an extract from the full article published in World Archaeology Issue 52. Click here to subscribe