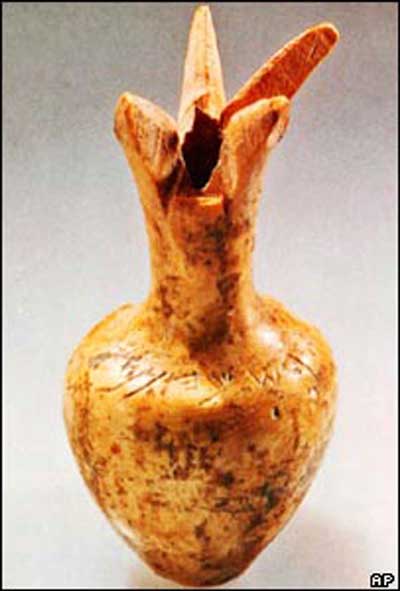 Israeli authorities have charged four antique collectors with creating a string of fraudulent Biblical artefacts. The announcement came as police and the Israel Antiquities Authority were ending a large-scale 18 month investigation into antiquities fraud. Several forgery rings were uncovered during the probe, in which hundreds of people were questioned.
Among the alleged fakes is a thumb-sized ivory pomegranate, previously thought to be the only relic of King Solomon's Temple. The so-called First Jewish Temple, yet to be archaeologically substantiated, is said to have been built sometime in the 1st half of the first millennium BC, and to have stood somewhere near, or under, the Muslim Dome of the Rock (see Books in this issue).
The pomegranate, interpreted as having been used as the top of a sceptre carried by a temple priest, was bought from an anonymous collector by the Israel Museum in Jerusalem for $500,000 in the 1980s, with the money deposited into a secret Swiss bank account. The cream-coloured artefact carries ancient Hebrew lettering that spells the following, critical, inscription: 'Belonging to the Temple of the Lord (Yahweh), holy to the priests.'
However, a team of experts say that the inscription is a recent addition, and that the pomegranate is a Bronze Age artefact, dating to 1,400 BC, making it considerably older than Solomon's Temple.
In defence of the museum's decision to buy an expensive object of unknown origin, its Director, James Snyder, said the pomegranate was examined with the technologies available at the time. He said that it was only when the pomegranate was re-examined with a new type of microscope, that researchers were able to detected synthetic material in the inscription, lodged between the ivory and the patina.
This fake is not the only major case of forgery to be uncovered recently. Last year, Israel's Antiquities Authority decreed as fake the the purported limestone burial chest of James, Jesus' brother. James' ossuary, with the words 'James, son of Joseph, brother of Jesus', had been heralded as a major archaeological discovery – the oldest archaeological link between the modern world and Jesus.
Four Israeli defendants have been charged on 18 counts – including forgery, and for receiving these, and other fraudulent goods over the past 20 years. However, one of the four defendants, Israeli collector Oded Golan, said that the charges against him contained not 'one grain of truth'. He added that the 'fantastic allegations' against him were part of a campaign designed to destroy Israel's antiques. Some U.S. scholars concur that the Israeli investigation was flawed.
Clearly the case is highly contentious since many of the items carry great scientific, religious, sentimental, political and economic value.
---
This article is an extract from the full article published in World Archaeology Issue 9. Click here to subscribe