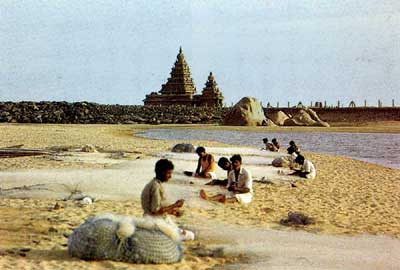 The area around the famous Mahabalipuram temple in Tamil Nadu state is swathed in legend. The myths of Mahabalipuram were first set down in writing by British traveller J Goldingham, who visited the South Indian coastal town in 1798. The myths tell of six temples submerged beneath the waves with the seventh temple – the Mahabalipuram temple – still standing on the seashore. They record how a large and attractive city once stood on the site, but that it was so beautiful the gods became jealous and sent a flood that swallowed it up entirely in a single day.
Now with equal vengeance, the myths may have become reality: the recent tsunami appears to have thrown evidence of the ancient port city back onto the beaches.
After the recession of the coastline following the tsunami, archaeologists identified several stone structures buried in the sand close to the Mahabalipuram temple. All of those so far identified are around 6ft tall, and all have the elaborate engravings – of the kind found in the rock-hewn Mahabalipuram temple. The temple, a World Heritage site, represents some of the earliest-known examples of Dravidian architecture dating back to the 7th century AD.
The structures found on the beach 'could be part of the small seaport city which existed here before the water engulfed them. They could be part of a temple or a building. We are investigating,' says Dr Sathiamoorthy of Archaeological Survey of India. Speaking to CWA, Robert Knox, Keeper of the Department of Asia at the British Museum said: This appears to be a very exciting revelation, and needs to be investigated thoroughly. It seems to me quite sensible to assume that there are finds to be made out to sea and that a concerted effort in that area will yield useful information.'
In one more twist of fate, the tsunami's ferocious waves have also positively impacted on the temple, the archaeologists report. The waves have given the temple a deep external clean, and have managed to de-silt one of the reliefs that had long been covered with sand. A half-completed rock relief of an elephant was also naturally de-silted by the waves, and is drawing large crowds of admirers.
For the past three years, archaeologists working with divers from India and England have undertaken surveys stretching 1km into the sea and have identified underwater remnants likely to belong to the ancient port. The waves that brought such tragedy are thus adding new pieces to the puzzle of Mahabalipuram.
---
This article is an extract from the full article published in World Archaeology Issue 10. Click here to subscribe