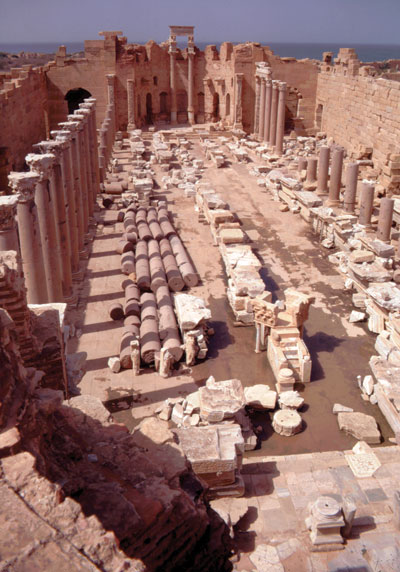 Libya's heritage is in danger of being overlooked, warned Dr Hafed Walda, Libyan archaeologist at King's College London and international advisor on Libyan heritage.
At a session organised by the Society for Libyan Studies, Walda called for international support to help secure the country's national heritage. He went on to say that, understandably, international aid efforts had concentrated on health, the army, and security, but that the country's heritage should not be forgotten.
Libya's rich archaeology reveals evidence from the early Palaeolithic period onwards, and boasts stunning Roman remains, notably Leptis Magna, Sabratha, and Cyrenaica.
While the former dictator Muammar Gaddafi was dismissive of such gems, the Libyan people are not. During the uprising, there was little looting of heritage sites, and museums were safeguarded by local populations. At Benghazi, the Department of Antiquities noted some artefacts were missing from the museum but these had been taken for safekeeping, and all were safely returned when the danger was over.
Not so another treasure: more than 7,000 coins and other precious artefacts were stolen in 2011 from a bank in Benghazi's Tahir Square, the scene of some of the worst violence during the uprising. The Treasure of Benghazi is a collection of coins, jewellery, and figurines from the Temple of Artemis at Cyrene, amassed between 1917 and 1922 during the Italian occupation, and returned to the country in 1961. Since then, it had been locked away in the bank vault. Few people knew it was there, yet the thieves drilled through 70cm of solid concrete to reach the vault, raising suspicions that this was an 'inside job'.
Most of Libya's monumental structures survived unscathed during violence – possibly because the exact locations of archaeological sites were passed on to NATO, so that their bombs could be targeted elsewhere.
Now, says Walda, with international help, the Department of Antiquities in Libya can secure the country's future by investing in its past, opening its doors to visitors, and by promoting jobs in the preservation, conservation, and study of its archaeological heritage. For more information, visit www.societyforlibyanstudies.org.
---
This article is an extract from the full article published in World Archaeology Issue 52. Click here to subscribe