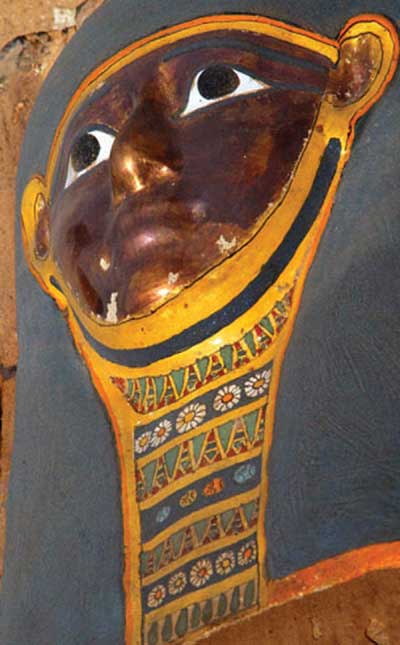 An Egyptian-led team of archaeologists have discovered a brilliantly-coloured mummy at the Saqqara Pyramids complex near Cairo, Egypt. The mummy is thought to have been buried around 300 BC.

Stand back Nigella Lawson and Kate Moss, this yummy mummy has hit the headlines as the world's most beautiful mummy. Though its identity is unknown, archaeologists believe it is from the 30th pharaonic dynasty (381-343 BC). The ancient Egyptian was probably wealthy owing to the fine gold used to make the mummy's mask and the location of the burial, said Zahi Hawass chief of Egypt's Supreme Council of Antiquities. Scientists will use CT scanning technology to look for more details about who the mummy might have been, and how she – or more likely he – might have lived and died.

The burial was found within the reused royal necropolis of King Teti who reigned two millennia before this burial was made. The necropolis, which contains many temples and burial chambers, is in Saqqara, about 20km (12 miles) south of Cairo. The mummy was found at the bottom of a shaft 6m (20ft) deep. It was placed in a decorated cartonnage case – probably made of a mixture of linen and papyrus – and placed within a plain outer wood coffin.

The face was covered with a gilded mask showing a softly-smiling visage with slightly quizzical black eyebrows atop clear black eyes. A painted blue wig frames the face. Multiple bands across the torso and upper legs show many Ancient Egyptian deities including the goddess Maat, the goddess of balance and truth who sat in judgment over the souls of the dead. She is shown with spread blue and gold wings, and outstretched arms. In each hand she holds a tall blue feather, one dark the other light.

Once the mummy has been fully investigated, it will be put on display in Saqqara, where its future resting place will be the Museum of Imhotep, a museum dedicated to the architect of Egypt's oldest pyramid.
---
This article is an extract from the full article published in World Archaeology Issue 11. Click here to subscribe