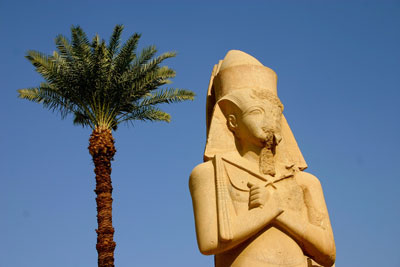 After the dramatic departure of President Hosni Mubarak, attention swiftly turned to one of his high-profile ministers, the world- famous archaeologist Dr Zahi Hawass. No stranger to the glare of the media spotlight, Hawass quickly became tainted along with the crumbling regime and was engulfed by damaging charges of corruption and mismanagement. On Sunday 17 July, Hawass was abruptly sacked as the Minister of State for Antiquities Affairs in an overhaul of the country's cabinet, and his controversial reign as one of the most powerful men in the archaeological world finally came to an end.
Hawass rose to prominence in the late 1980s as the General Director of Antiquities for the Giza Pyramids and became familiar to worldwide television audiences through documentaries investigating the mysteries of the pyramids. Infamous for his trademark hat and self-styling as the 'Indiana Jones of Egypt', Western-educated Hawass was elevated to the position of Secretary General of the Supreme Council of Antiquities (SCA) on 1 January 2002. As Egypt's foremost archaeologist, he was responsible for a staff of 30,000, control of all ongoing archaeological work, and the maintenance of a vast array of cultural riches including the Pyramids at Giza, the Valley of the Kings, and the Temple of Karnak in modern-day Luxor.
Formidable in asserting his new position, Hawass unveiled a raft of new measures. These included an aggressive nationwide museum-building programme, promising to improve
the working conditions for local archaeologists, and implementing new site-management policies. Egyptologist Dr Melinda Hartwig of Georgia State University observes that Hawass was 'adamant about publishing the results of archaeological fieldwork, even going as far as to shut down digs that were behind on their reports'. Hawass masterminded the planning and initial construction of the $550 million Grand Egyptian Museum in Giza – once completed in 2015, it will be the largest archaeological museum in the world, housing more than 100,000 artefacts and expecting around 5 million visitors per year.
World stage
It was through Hawass's vociferous demands for the return of stolen cultural artefacts to Egypt that he first hit global headlines. Throughout his tenure at the SCA, he attempted to stamp out the relentless and highly damaging illegal trade in Egyptian cultural artefacts with some degree of success, presiding over the return of nearly 5,000 objects.
Hawass used his position as head of the SCA to embark on a decade- long campaign to demand the return of Egypt's most prized objects from leading museums around the world. These included the Rosetta Stone at the British Museum in London, the Zodiac of Dendera at the Musée du Louvre in Paris, and the bust of Queen Nefertiti at the Neues Museum in Berlin. In the face of mounting media attention, Hawass applied increasing pressure for repatriation of key Egyptian objects from embattled world-renowned institutions, threatening embargoes on museum cooperation and excavation permits.
Dr Hartwig believes 'Zahi Hawass was a force of nature and tireless in his pursuits. He spearheaded the return of the country's patrimony and he clearly demonstrated a strong desire to study, protect and preserve the cultural heritage of Egypt'. The influence of the media has been crucial to Hawass's enduring campaign, as he acknowledged when returning from a high-profile visit to London two years ago: 'The English press was on my side in asking for the return of the stone'.
Last year Egypt, the largest country in the Arab world, received revenue of over $12 billion through tourism. Hawass has been the driving force behind the heavy promotion of two successful Tutankhamen exhibitions that continue to travel to major cities around the world, generating for Egypt an estimated final revenue of over $100 million.
Dr Peter Brand of the University of Memphis notes that Hawass's crowning achievement was 'to raise the profile of Egyptology around the world, especially in the participation of Egyptians in their own pharaonic heritage'. Hawass has been credited by government officials with boosting the number of visitors to the country through a relentless drive of self-promotion and headline-grabbing discoveries – he became he living embodiment of both Ancient Egypt and modern Egyptology.
Hawass always made sure he was the public face of Egyptology at every level – through the SCA he personally announced every new archaeological discovery, wrote countless bestselling books, and became ubiquitous on every history-themed cable channel in America.
Last year he took another step forward into show business by starring in his own exclusive warts-and-all reality series Chasing Mummies (tagline: 'Pharaohs ruled then. He rules now'). With an army of adoring international fans and close personal connections to Mubarak, the charges of having a poor scientific approach to archaeological work and being too concerned with endless self- promotion had little impact – Hawass was perceived as virtually unassailable.
Winds of change
In one of Mubarak's final official acts as president, Hawass was appointed as the Minister of State for Antiquities Affairs in a new department that absorbed the SCA. As such, he was charged with the care and protection of all Egyptian monuments and museums. Nearly two weeks later, at the height of the revolution, everything changed. Hundreds of archaeologists protested outside Hawass's offices, furious at low wages, high levels of unemployment, and poor working conditions. It was also claimed that Hawass took all the credit for work by other archaeologists, causing further frustration. Egyptian archaeologist Nora Shalaby took part in the demonstration and witnessed the angry chants of 'thief' against Hawass: 'He ran the antiquities sector exactly like Mubarak had run Egypt. He did not allow for people to challenge or criticise him and he monopolised our heritage for his own self-promotion.' The protestors submitted a list of demands including the immediate prosecution of Hawass on charges of corruption and accountability for the looting of artefacts from the Cairo Museum during the revolution. With the dramatic changes unfolding in Egypt's political landscape, Hawass was an obvious target for a new generation of disgruntled archaeologists.
Amid rising animosity, criticism was heaped on the alleged $200,000 annual salary Hawass received from National Geographic, particularly as he personally controlled all access to the ancient sites featured in the high-profile magazine reports. His close links with American companies who represent the Tutankhamen exhibitions and associated Egyptian-themed merchandise were heavily scrutinised, further tarnishing his increasingly beleaguered reputation. The subsequent launch of a widely ridiculed Zahi Hawass clothing line ('for the man who values self-discovery, historicism and adventure') only succeeded in fanning the flames of resentment, despite claims by Hawass that all profits would be donated to a children's charity in Cairo.
Following the fallout from protests in Tahrir Square, Hawass resigned his cabinet position – only to be reappointed a month later. After just weeks of being back in the job, he was sentenced to a year in prison in a dispute over the preferential award of a gift shop retail contract at the Egyptian Museum in Cairo. A criminal court recently acquitted Hawass of all charges against him. Despite attempts to distance himself from the political old-guard
in Egypt, Hawass's close links to the Mubarak regime continued to haunt him, and he was eventually sacked in July. Hawass does not plan to fade away quietly. He is already at work on his archaeological autobiography, and recently observed that he was 'blessed to see first-hand how many Egyptians love and respect me'.
SCA's newly appointed Secretary General Mohamed Abdel Fattah has a tough task ahead of him. The former Head of the Museums Department needs immediately to curtail the increased looting of sites across the country. Many archaeological locations have been
left vulnerable to opportunistic raiders following the uprising, with dozens of sites looted, including tombs and storage magazines in Saqqara, Dahshur, and Giza. Abdel Fattah urgently needs to bring a steady hand to the SCA, which has been weakened by the departure of Hawass and the uncertainty of a new era in Egypt's history. With a demoralised and disgruntled archaeological workforce, an appropriate balance of preservation, promotion and clear leadership is required to ensure the priceless heritage in Egypt is protected for future generations.
---
This article is an extract from the full article published in World Archaeology Issue 49. Click here to subscribe