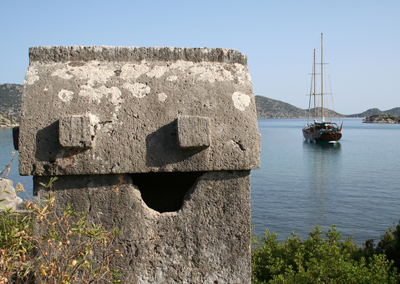 To sail the Turkish Coast is to embark on an historical and archaeological adventure that spans over 3,000 years of history. It brings to life successive civilizations of Lycians, Greeks, Romans, Byzantines, and Ottomans, all of whom stamped their mark on this remarkable region. These great cultures have not only left beautiful and inspiring physical relics of their presence, in the form of crumbling cities and tumbled temples, but also a tradition of myths and legends so rich that at times it seems as though they are woven into the landscape itself. Many of these myths were familiar from childhood, for this is a place of gods, Trojan War heroes, and the monstrous chimera. To see how this unique combination of terrain and belief gave birth to timeless tales of mortals and immortals is a truly exhilarating experience. There is something about standing in temples dedicated to mighty deities, and seeing where they performed their legendary feats that brings their world tangibly closer.
Our transport along this mythical landscape was a traditional form of Turkish schooner, known as a gulet. Laid on by Peter Sommer Travels, and the Turkish Office for Tourism and Culture, this was a true voyage of discovery. We caught the first glimpse of our vessel, Almira, at dusk in the picturesque harbour of Göcek. Terry, my husband and travelling companion, loves boats and was delighted by its elegant, handcrafted design. Not having been on many cruises before (I was expecting a tiny cabin), I was pleasantly surprised to find our quarters were eminently comfortable with a well-proportioned en-suite bathroom. After unpacking, we joined our fellow passengers for our first dinner on the stern deck. How wonderful to eat al fresco in a warm climate under a starry sky! It was an auspicious start, and over the following week Almira, itself a product of a more refined age, seemed almost like a time machine, sailing us through a vanished world. It was all a far cry from when I entered the competition in CWA 41. Back then, fully immersed in a world of internet scams, I needed to be convinced that the email informing me of my win was genuine!
Each day was a voyage in itself, a few hours cruising along a magnificent coastline, some swimming in a beautiful bay, and then a trip ashore to explore an archaeological site. From the stories of St Nicholas on Gemiler Island (who would have thought that Santa Claus originated from this coast?), to the ancient necropolis at Teimiussa, where tombs like stone treasure chests are scattered along the shore, the tour never failed to surprise. Its magic was perfectl captured by a visit to the ruins of the Hellenistic theatre at Kaş. After soaking in the breathtaking view of a shimmering, azure-blue sea – a match for any Ancient Greek drama – I strolled into town to admire the carpet shops. There, tucked away in an alley between them, was a huge Lycian sarcophagus in magnificent condition, its lid emblazoned with roaring lions.
Peter Sommer Travels specialise in expert-led archaeological tours and gulet cruises. Find out more: www.petersommer.com
---
This article is an extract from the full article published in World Archaeology Issue 45. Click here to subscribe