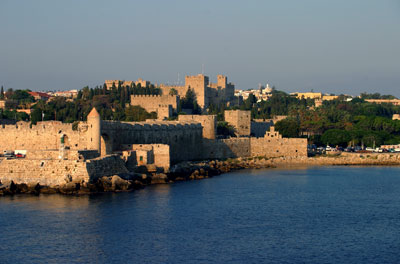 As we crossed from Marmaris to Rhodes, the hydrofoil skimming through the hammered blue seas, my thoughts turned to one of my favourite books, Lawrence Durrell's Reflections on a Marine Venus. Few writers are better at capturing the magic of the Mediterranean than Durrell, who was born a century ago this year. Here is a sample of the 33-year-old Durrell's elegiac prose: 'There are people who find islands somehow irresistible. The mere knowledge that they are on an island, a little world surrounded by the sea, fills them with an indescribable intoxication. These born "islomanes"… are the direct descendants of the Atlanteans, and it is towards the lost Atlantis that their subconscious yearns…'. I have an admission: I think I am an islomane, though I would not claim to be a descendant of Atlantis! A second admission goes without saying: I would love to have passed a day in Durrell's company on Rhodes as the Second World War ended, paradoxically an idyll that seems distant now.
If I was musing upon anything else during the crossing it was the crisis in Greece. What I had not expected was to reflect upon the fate of Rhodes – not because of the intractable pain of the sovereign deficit, but because it is on the World Heritage List and, truth be told, its heritage is palpably suffering directly or indirectly from it. Approaching Rhodes from the sea, its squat but imposing early Renaissance yellow palace of the Grand Master dominates the harbour. This Italianate citadel and its vertiginous city walls configure a powerful Medieval crusading message for the sleek, if diminutive yachts and seacraft gathered here. Even the towering cruise ships are oddly dwarfed by this military setting. Rhodes, after all, was a Christian salient intended to intimidate the Turks, an intimidation that ultimately led to Suleiman the Magnificent invading and conquering the island in 1522. Such brazen militarism came at a price.
Past glories
Rhodes is flourishing today. Perpetual strikes in Athens have served to divert tourists here; the wall-to-wall beachside hotels are prospering. Everyone, though, makes their way at least once to the walled town and its great palace. First stop, for those either bussed in from the beaches or pausing on a Dodecanese cruise, is Hippokratous Square. Vendors sell all kinds of trinkets, mostly made elsewhere, but nevertheless the atmosphere of a bazaar remains. From here, the wide Ippoton leads to the Palace of the Grand Master of the Knights. Thanks to the Italian occupation, the palace has been restored to a benign magnificence, eliminating all memory of Suleiman's painful excursus here. This is a place of shadows and lights, echoing passages, staircases, and lofty rooms. Above all, it offers a strange anonymity amongst the throngs of visitors. In a far room, an exhibition of the recent excavations in Rhodes is welcome – although the panels and selected objects tell an edited story about Rhodes in antiquity, omitting the Middle Ages. Nonetheless, the exhibition lends context to this impressive bastion of late crusader authority.
Rhodes, of course, was celebrated for its Colossus, one of the Seven Wonders of the Ancient World. Sitting at the northernmost tip of this lozenge-shaped island, its origins as a port date back to Minoan times. The poet Pindar claimed that it was born of the union of Helios, the sun god, and the nymph Rhode. More prosaically, the city was conceived as a new capital in 408 BC and graced by a gridded street-system designed by the Athenian town-planner, Hippodamus. It prospered not only as a commercial centre, but as a place renowned for its schools of science and philosophy. When it signed a treaty with Rome in 164 BC it sustained its status as an educational hub for Roman noble families, until it fell foul of Cassius, more than a century later, who wantonly sacked the city.
In Roman and Byzantine times its fortunes revived, spurred on by its location and role as a great harbour. But this prize was irresistible to Islam, whose forces first occupied it in 672, then again in 1090. The Knights Hospitaller made it a great redoubt, withstanding the Sultan of Egypt in 1444 and Mehmed II in 1480; but in 1522 Suleiman the Magnificent was unstoppable. The city remained in Ottoman hands until 1912 when, at the Treaty of Lausanne, it passed to the Italians. It was not, then, until 1947, after Lawrence Durrell's brief administrative sojourn here, that the island was united with Greece.
Durrell's muse
The Archaeological Museum inhabits a smaller palace, memorable for its tight, dark atrium and its first-floor hall supported by the finest rib vaulting. Even on a brief visit I cannot resist reacquainting myself with Durrell's Venus, a statue salvaged from the sea and lovingly thrust into perpetual fame by his prose: 'She rose as if foamborn… as if bowing to her audience. The sea-water had sucked at her for centuries till she was like some white stone jujube, with hardly a feature sharp as the burin must originally have left it. Yet such was the grace of her composition… that the absence of firm outline only lent her a soft and confusing grace. It is as if she were made of wax: had been passed very rapidly across a flame intense enough to blunt her features, yet not materially to alter them: she has surrendered her original maturity for a rediscovered youth.'
You can easily miss this graceful creature in the warren of rooms accommodating countless sculptures. Pause, too, to enjoy the rustic Roman tombstones from the neighbouring island of Nisyros: their sculptors plainly enjoyed a sense of freedom as they fancifully experimented with their own concepts of what Classicism should be. Pause, too, at the back of the museum to feast upon the archaeology of the Minoan colony of Aghia Triadha, the forerunner of the ancient and Medieval town. Now a place overrun with beach hotels, the excavations show it was a palace complex every bit as expansive as Knossos, with cemeteries containing grave goods belonging to its citizens who had plainly prospered from their proximity to Anatolia and beyond.
---
This article is an extract from the full article published in World Archaeology Issue 53. Click here to subscribe