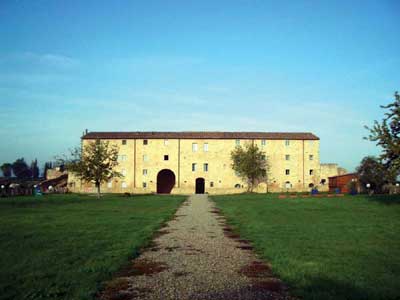 I noticed recently that a travel writer described Poggibonsi as the 'armpit of Tuscany'. Most know of it as an untidy town of undistinguished modern buildings half-way along the hair-raising superstrada between Florence and Siena, where one takes the road to San Gimignano. Modern Poggibonsi is certainly not a place to linger. The post-medieval town was flattened by bombing in 1944 as the Allies ground their way towards the Gothic Line. But Poggibonsi, I contend, will become a place to conjure with for future generations thanks to an enlightened collaboration between the Department of Medieval Archaeology in Siena University, the commune of Poggibonsi and the powerful Fondazione di Monte di Paschi (Siena's bank with its origins in the Renaissance).
The story starts, as so often in Tuscany, with a hilltop excavation. Led by Marco Valenti, a team from Siena University surveyed old Poggibonsi on the promontory above the present town. Old Poggibonsi lies in the saddle of a hill enclosed by the massive bulwarks of the Renaissance defences, and, significantly, the cassero (fortified palace) of Lorenzo the Magnificent occupying the spur of the hill. Marco Valenti's subsequent excavations are already a landmark in Italian archaeology. For more than a decade now the excavations have exposed an urban palimpsest spanning the Later Roman to Renaissance periods.
In synthesis, a 6th-century hilltop village of post-built dwellings was succeeded by a 9th-century village gathered around a prominent long-house – the first example from Italy of this classic North European Migration Period structure. The entire area was then re-planned in the High Middle Ages as a major cathedral, gridded streets and elegant town-houses built of ashlar were erected. At its zenith, San Gimignano, clearly visible across the vineyards, was a modest centre by comparison with Poggibonsi.
The dig led to plans for an archaeological park, reintegrating the old town with the new one. A design for a funicular railway was even drawn up (such as can be found at Orvieto). The thick wooded slopes were invitingly thinned out and new trails connecting old and new were made by the opening in September 2003. Handsome signs guide visitors, cleverly supported by reconstruction drawings made by the imaginative Inklink Studio in Florence. It is a blissful place.
But Siena University's mastermind behind Medieval Archaeology, Riccardo Francovich, pursued an even larger agenda. Following his successful creation of the mining park at Rocca San Silvestro and then the establishment of a college in the refurbished castle of Grossetto, both in western Tuscany, he devised a variation bringing all these elements together. Why leave the elegant Renaissance cassero, known from early 18th-century plans, in ruins? Why not make it into a study centre? Finding three million euros to do this involved a combination of forces contracted to a vision. Siena University would use it as a centre for an archaeological unit (its cooperativa) and create a laboratory for running graduate courses with a small attached hostel, if the commune of Poggibonsi managed it, installing a bar and, of course, a decent restaurant with its own wines. Monte di Paschi, long since seduced by Francovich's remarkable track record in reinventing Medieval places for modern Tuscany, paid for the conservation. It is breathtakingly simple. A combination of forces all with a stake in conserving and promoting the past have transformed arm-pit Poggibonsi into a place of envy. So on Sundays it is packed with locals, taking a passaggiata around the trails and ruins following lunch in the trattoria. Not surprisingly a shop has opened where not only tea-cups and tea-towels depicting the Inklink reconstruction of the 9th-century long-house can be purchased, but a complete run of now countless scientific and popular books by the Siena team.
I took part in the first graduate course, an innovative fast-track master's degree for a cohort of self-funded students from all over Italy, and shared in their enthusiasm for the wisdom behind this venture. (Monte di Paschi through Siena University sponsored three Albanian graduates – all alumni of the Packard Humanities Institute programme at the University of East Anglia – to take the course, including practical training in Siena's outstanding GIS laboratory and now its satellite in the cassero.)
The knock-on effects, of course, are exponential. Other local communities want to be linked to Poggibonsi by trails, distracting those normally intent only on San Gimignano. In addition, other small towns and centres in the region are actively speculating whether they too might construct the same package deal. So, Francovich and his team are presently evaluating the picture postcard Cistercian monastery of San Galgano as a possible follow-up.
In Britain might we imagine such a thing? A university working with local government and a private foundation to create a mutually enduring outcome for archaeology? Thirty years ago, possibly; now I very much doubt it. The universities are galvanized by the myopic Research Assessment Exercise which commends us to think in international, fund-raising and innovative terms but in reality has created a culture of non-collaborative single-authored works which have little to do with enlarging or promoting the ethos of our archaeological community. Meanwhile, local government lacks the faith to invest in its past to shape its future identity. Archaeology and history, so the thinking goes, conjure up a heritage society at odds with something vaguely defined as progress. (It should be left to English Heritage and the National Trust.) Finally, would a British bank fund heritage activities on this scale? It is very unlikely. Media and sport attract their support, not Britain's historical culture. In sum, on visiting a place like Poggibonsi, you appreciate how Britain's study of the past, to the complete mystification of scholars like these at Siena, is becoming increasingly endangered.
Plainly they do things differently in Italy. Admittedly, even in deep winter, the hilltop walk around Poggibonsi is as close to Tuscan paradise as you can come. n
[Laboratorio Area Archeologia Medievo (cassero, Poggibonsi, SI, Italy: tel. 0039-0577-983865)]
---
This article is an extract from the full article published in World Archaeology Issue 9. Click here to subscribe