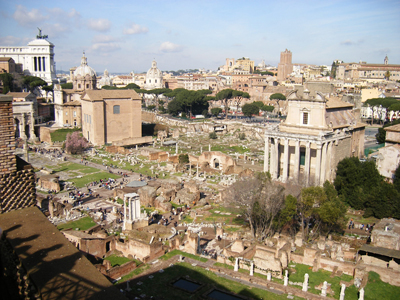 For Sigmund Freud, the archaeology of the city of Rome was a metaphor for the unconscious mind – a place where no memories or influences are ever lost or forgotten. Recent excavations in the city have made a reality of the psychologist's flight of fancy. The construction of a new metropolitan rail-line has brought discoveries ranging from Bronze Age farms to the lecture halls of Hadrianic Rome's university. Renewed exploration on the Palatine hill in the heart of the ancient city even claims to have found the Lupercal – a monument commemorating the she-wolf's raising of Romulus and Remus – and the Emperor Nero's circular dining room. Old sites are also becoming newly accessible, and since the beginning of this year, visitors have been able to enter ancient monuments closed to the public for decades.
Underground archaeology
Rome's creaking and overcrowded underground rail network, built in the mid/late 20th century, is undergoing a major upheaval. This includes the building of an entirely new system – the Metro C – which will run for 25km and cross the city diagonally. Within the city, the tunnels will run well below any archaeological strata – but the construction of stations and ventilation shafts will impact massively on the city's archaeology. Exploratory trenches have therefore been sunk at all intended station sites so that ancient structures can be recorded and, hopefully, avoided when construction work begins in earnest. The excavations were supervised by the Rome Archaeological Superintendency (Soprintendenza Speciale per i Beni Archeologici di Roma), working under the individual directors credited below.
The Metro's eastern terminus, 23km outside the city, overlay an early Bronze Age lakeside settlement dating. The site was excavated for the Lazio Region Archaeological Superintendency (Soprintendenza per i Beni Archeologici del Lazio) by Micaela Angle. Prehistoric land reclamation was detected in the form of a pebble track-way, with bedding containing obsidian stone tools, loom weights, pottery, tiny fragments of copper and toasted legumes and seeds (peas, beans, oats, grains). Between here and the city, excavations directed by Rossella Rea revealed traces of quarrying and ancient agriculture (including apple orchards, wells and irrigation channels) dating to the 3rd century BC. The closer construction got to Rome, the more tombs were encountered. These ranged in date from the late 1st century BC to the end of Antiquity in the 6th century AD. The early interments took the form of multiple cremations in frescoed columbaria, while simple surface inhumations predominated during later times. Immediately outside the 3rd century AD city walls, a Hadrianic marble-workers' yard was found. This early recycling centre accumulated old statue-heads and marble blocks to be re-cut into paving slabs and wall decoration.
---
This article is an extract from the full article published in World Archaeology Issue 42. Click here to subscribe