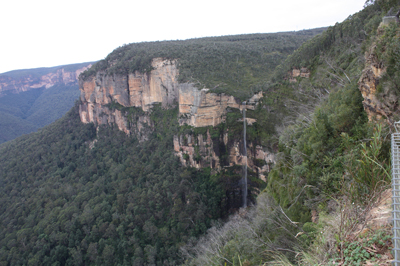 I clearly remember the day in October 1957, when news swept through the Institute of Archaeology in London that Gordon Childe had died in distant Australia. I was in my first term, and Childe had only just retired from the directorship. His presence was still palpable in the many references to his reign and anecdotal conversations in the tea room. The Institute was wonderfully egalitarian, and any young student like myself could sit beside the senior staff: one day I shared a table with Dame Kathleen Kenyon, who told me about an argument with Childe over her dogs, who had lapped up his tea and been instantly banned from St John's lodge. Her equally instant resignation letter resulted in the ban being lifted.
Gordon Childe's intellectual legacy was immense. Born in Sydney in 1892, he became a committed Marxist and revolutionary archaeologist. His incisive appreciation of the social impact of farming, urbanism, and the development of metallurgy, allowed him to draft a prehistory for Europe. His books such as Dawn of European Civilization, or the Danube in Prehistory, cemented Childe's pre-eminence.
Fifty-three years later, my wife Polly and I diverted from our itinerary to Canberra, where I was to deliver the Jack Golson lecture, to pay respects to the memory of Childe at Govett's Leap in the Blue Mountains, where he had fallen to his death. I had chosen the Bronze Age of Southeast Asia as my lecture subject, which made the visit particularly appropriate. I booked accommodation on the internet, and on 27 April, we arrived at Wentworth Falls in the heart of the Blue Mountains. It turned out to be more a mansion than a house, divided into three suites. To our amazement, we discovered that we were occupying the Gordon Childe suite. Enquiries about this to the owners, Bill and Maria McCabe, revealed that this house, known as Chalet Fontanel, was the summer retreat of the Childe family.
Bill's photograph album contained a sepia image of the infant Gordon Childe in the chalet garden. Cradled in a woman's arms, presumably his mother, the family dog sits beside them on the lawn. The following morning we identified the precise location of the photograph, and Polly took one of me in the same place. Bill then lent us a biography of Gordon Childe, and we read how the family would take the train up to Wentworth Falls from Sydney, and Gordon would, as he grew older, explore the surrounding hills and valleys, perhaps visiting the sites of Aboriginal art. Over half a century later, in 1957 and on his return to Australia, Childe revisited the chalet but barely recognised it. He stayed in the Carrington Hotel in nearby Katoomba and roamed his childhood haunts.
On 17 October of that year, he took a taxi to Govett's leap – a majestic place, dominated by a sheer cliff face with a dizzying drop commanding distant views of the mountains. We drove out there and walked along the track to the head of the Bridal Veil falls, where a stream debouches over the cliff edge to cascade into the depths of the valley below. It was here that Gordon Childe walked, having told his driver he would be back in time for lunch. When he was not, an alarm was raised, and Childe's pipe and spectacles were found by the cliff edge.
Despite the coroner's verdict of accidental death, there is no doubt that Childe took his own life. He told Edward Pyddoke, the secretary of the Institute of Archaeology, that he was going to return to Australia on his retirement, and jump off a cliff. Peter Grimes, his successor as Director of the Institute, reported an identical conversation. Childe did not marry and had no family to support him. In a letter addressed to Grimes that was not to be opened for a decade, Childe explained that as he aged and grew less able to care for himself, he did not wish to be a burden on others. Three days before he died, he wrote a reference for Peter Gathercole who was then seeking a post at the University of Otago. The reference concluded by stating simply that the University would not be able to contact him in future.
For anyone with an interest in the Bronze Age, Govett's Leap is not only hauntingly beautiful, but also a place of pilgrimage. It is remarkable that there is no plaque or memorial there to one of the world's greatest prehistorians.
---
This article is an extract from the full article published in World Archaeology Issue 45. Click here to subscribe