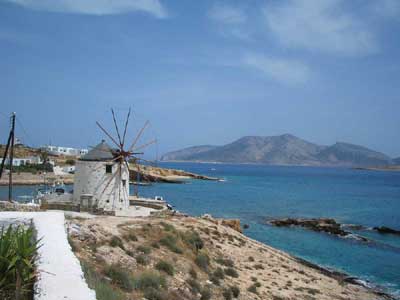 My friend Kostas said to me one evening this spring: "Colin Renfrew is digging in the Cyclades! My friend, this is the dig of a lifetime. Go!" In all the years I have known Colin [Lord Renfrew, the former Disney Professor of Archaeology at Cambridge University], I have never encountered him in the field. I unwisely forsook the opportunity to dig at Phylakopi on Melos (the Cyclades) in 1975, chasing potsherds in French museums instead. Likewise I missed the chance to dig at Quanterness in the Orkneys.
These places – Saliagos – Sitagroi – Phylakopi – Quanterness – Amorgos – are tacit benchmarks of my life; places that have a special meaning as publications of a man whom I hold to be the greatest archaeologist of his generation. So, I accepted the invitation, accompanied by James Whitley, the Director of the British School at Athens, and made the odyssey to ano Koufoníssi, the Cycladic island, nearest to Colin's new dig.
I flew from Corfu to Athens, the dawn flight skimming over the late May mist burning off from Lefkada and Cefallonia. Then, inevitably, a long wait in Athens airport where I spent time in the elegant little archaeological museum, tucked up above the concourse, highlighting the rich range of prehistory, Roman and Byzantine remains found in building Eleftherios Venizelos airport.
Next stop Naxos by a propeller plane that glided down low over the Venetian castle, the kastro, and flopped onto an uncomfortably short runway with an airport building that resembles little more than a scruffy ticket office. Naxos boasts an old archaeological museum in the kastro with a collection of Cycladic figurines in polished wooden cabinets bettered only by those in the Goulandris collection in Athens. Better still, is the section of the Mycenean, Hellenistic, Roman and Byzantine town, excavated some years back by Olga Philaniotou, and now conserved by a robust roof – rather reminiscent of an urban excavation in Denmark or Sweden. For those who advocate urban continuity from the Bronze Age, few places illustrate it better.
From the centre of Naxos harbour there is an afternoon ferry, allegedly an express, that runs between the smaller islands. It is cramped to the gunnels with cars, tackle and tourists and like a Hebridean ferry it lifts and tumbles in the powerful swell. The boat beat its way through the white caps first to the spare little harbour of Iraklia, then it eased into the awkwardly constricted harbour of Skhinoussa, scene of a major police raid a month before when a villa was discovered to have underground stores with countless crates of looted antiquities. The finger of accusation was quickly pointed by the Greek press towards Sothebys in London and then Getty in Los Angeles. Global trafficking with its headquarters located here of all places seemed utterly improbable – a few houses, casual boats bobbing in the ferry's wake and already a parched treeless landscape bathed by the cloudless Cycladic sky.
A little lighter now, the wind dropped, and the express set sail for ano Koufoníssi, the island at the end of the chain, where Colin Renfrew was based in the oldest hotel. Now I indulged in some mellow reflection.
Thirty-five years ago on a dark November night I sped through the Wiltshire countryside to the Corn Exchange in Devizes, having learnt that this already remarkable man was lecturing on 'Wessex without Mycenae'. Reading his early essays I was instantly seduced by the romance and epic quality of his scholarship. What was he like in person? As I opened the door, the Wiltshire Archaeological Society's AGM was nearing its completion, and immediately to my right was a tall, bespectacled man in a blue raincoat who turned and smiled courteously at me. He, it soon became clear, was the speaker. Ten minutes later, aided by slides, he set sail on his saga, bewitching the audience with elocutionary fireworks that, I suppose we must admit sadly, belong to another age. In many ways it was a Damascene experience as Colin became within six months my professor and, improbable as it might seem since I am a medievalist, a peerless mentor.
We waited in the hold, among heaps of cargo, as the ferry manoeuvred awkwardly against the bare pier. Then the back door lurched forward and in single file, tourists and locals alike, we advanced towards the evening sunshine. Tucked to one side, peering in, was a familiar beaming face, cap, blue tie and white shirt. He welcomed us and pushing his bicycle, we ambled along the waterfront as the ferry charged off into the opal seas towards Amorgos, mountainous in the distance.
We spent two days with Colin and Jane Renfrew and their team of 20 or so. It would be improper for many reasons to describe the purpose and discoveries of his remarkable dig: only Colin could do it justice. Instead, in this postcard, I would like to recall the pleasure of Colin's stories and experience. After all, he is regarded as a great theoretician and a scientist who instilled methodology in modern archaeology.
But for over 40 years he has been working off and on surveying and excavating major archaeological sites.
Indeed, it was some 43 years ago that Colin, then working on his doctorate at Cambridge, came upon these islands and their fundamental archaeological issues for the emergence of the Neolithic in the Cyclades. It lead to his great book, published in 1972 entitled Emergence of Civilization, and known to us as postgraduates as 'The Bible'. This book had a breadth and imaginative innovation that for a decade at least dominated research in Europe – not least mine – but, as Colin admitted over dinner one night, was not particularly influential in the USA. Now, having recently won a prize, he thought why not invest it in a project he had dreamed of doing for decades.
Watching others run projects is always interesting.
In Colin's case this was especially true. First of all there is a genial Wheeler-ian punctiliousness about life. Each part of the day, from the departure on the little fishing boat to a distant isle, is carefully and usefully regulated. Yet, far from being over-bearing, the reverse is true. Responsibilities are delegated to just about everyone for one task or another. Everyone, within this framework, has a role, be it running a trench, sieving, working on a class of artefact or drawing. Colin inspected their sites, but more to the point their notes and records as well, sharing the experience in all aspects of the project and winnowing out the story of the excavation. My impression was that everyone basked in this privileged benediction.
Even the workmen, young islanders who otherwise would be helping out in the seasonal bars and restaurants, were equally engaged in the enterprise. And no less caught up in the group ethic was Olga Philaniotou, the local inspector from Naxos newly promoted to be ephor of Mytilene, many islands away to the east. Olga explained to me that it was a life-changing decision to leave Naxos after more than a quartercentury, especially now she had the pleasure of working with Colin as his associate director.
The rhythm of each day was punctuated by breaks. Two were special: an ample loaf of fresh bread, cans of sardines, tomatoes and fruit for lunch: 'simple but very serviceable', Colin ventured. Then dinner with the team tucked around extended tables in a local taverna – they moved from one taverna to another, sharing out the custom. Here, of course, Colin, past Master of Jesus College, Cambridge, was in his element. Everyone was welcomed, many with a question about the day's activities. Over dinner – initiated with iced ouzo – the talk was of digs past and of present controversies. Each of Colin's field projects has lasted about three seasons. The first, on the island of Saliagos near Paros, was shorter, and, it seemed a favourite, not least because of the friends they had made within the local community.
Sitagroi in Thrace clearly had a special place too. He had sunk a huge, deep trench into this extraordinarily well preserved tell encountering unique deposits with many Neolithic clay figurines. The scale of it in retrospect seemed to surprise and delight him. Then there were expeditions to Melos and Amorgos, but when I asked about Orkney, Colin became lyrical with the memory. The project had grown out of the celebrated BBC 'Chronicle' films and his search to describe the radio-carbon revolution in European prehistory. The result is a majestic monograph, illustrated by masterful plans and sections of the megalithic monuments made by the Sheffield architect, Alec Dakin. But it was the Orcadian light and the poetry of its people that marked this experience.
Digging for Colin has been about people and places and above all their spirit. Perhaps this is why each of his fieldwork monographs encapsulates much more than the search to resolve a problem discretely using the most modern methodology. Rather like Mortimer Wheeler's great excavation reports, each is a chapter in an epic life.
Of course, we came to talk about the unexpected police raid on the neighbouring island of Skhinoussa where a villa packed with looted antiquities had come to light. The discovery led the police to check out Marion True's villa on the island of Paros and claim that the controversial ex- Getty curator had illegal antiquities. No-one believed this. But the issue of looting has been championed by Colin, who appeared on the long Greek documentary about the case. Over dinner, this elicited the news that Tom Hanks had a villa on one of the neighbouring islands and soon the Da Vinci Code star might be making a new film about the trafficking of antiquities.
We left on the 7.20 ferry almost an hour after Colin and his team set sail at dawn for their distant isle in its placid sea. His kayike was returning to harbour as we departed, its craggy-faced captain saluting us with his klaxon. This has felt like a trip to an oracle, a privilege that outstripped the magic of the Cycladic islands and their extraordinary prehistory.
---
This article is an extract from the full article published in World Archaeology Issue 19. Click here to subscribe