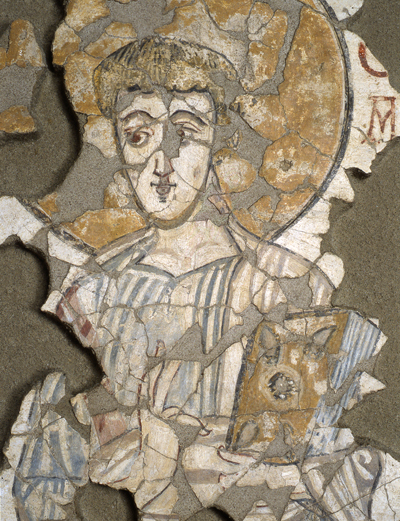 Thirty years ago my career took a memorable new turn. I had been trained in settlement archaeology and the theory and practice that this entailed. Much of this was controversial because I subscribed to the so-called New Archaeology championed by a generation of American archaeologists and emulated with some skill by the rising stars of British Prehistory. These near evangelical approaches were rooted in a search for a science of archaeology. However, how people in the past thought or expressed themselves in visual or written forms was considered rather old fashioned. There was, perhaps, a reason for this: few of us ever had the chance, as archaeologists, to discover paintings or texts. Our bread and butter were the barest of ruins and essentially prosaic finds. Then, on 1 September 1981 during the second year of my excavations at San Vincenzo al Volturno – the great Carolingian monastery 120 miles south of Rome – I encountered a truly unexpected challenge to all I believed.
The challenge came in the ebullient form of John Mitchell, an art historian and lecturer at the University of East Anglia, Norwich. I had invited him (without meeting him!) to help interpret a painted altar found during the first season of excavations. I forewarned the team of die-hard diggers to be polite, presumptuously assuming art historians to be precious – unlike the down-and-dirty archaeologists. Boy, I was wrong: he arrived with his old rucksack and brimming with unalloyed eagerness to be back at San Vincenzo where, ten years before, he had slept in an olive grove after visiting the celebrated painted crypt of San Vincenzo al Volturno. Before the night was out, he was teaching the digging pirates new party games involving any amount of our 'rot-gut' red wine, leaving everyone bemused by my earlier cautiousness.
His arrival was the catalyst for a bigger revelation. On that very day, the excavations had ventured into a new sector. Plunging deeper and bewilderingly deeper, we came upon a tip of painted plaster fragments heaped back towards a brightly painted wall. John, with the eye of a professional, could scarcely believe we did not grasp what we had. Finding a huge aluminium baking tray and some builder's sand, he placed in it the painted fragments and rearranged them again and again – the first of countless hours spent on room-sized jigsaw puzzles. Like magic, our alchemist confected a saint's head.
Saintly revelation
Confidently painted in ochrous bright colours, this bold-eyed individual revealed to us, so-to-speak, a very big story: we had found the vaunted 9th-century monastery of San Vincenzo al Volturno, described in picturesque detail in the 12th-century Chronicon Vulturnense. Our saint, we eventually learned, had graced the wall of a re-decorated ground-floor atrium – the so-called Vestibule – that served as an intermediary room between a Beneventan palace occupying the north end of the Dark Age monastery, and a sprawling, decorated, grandiose claustrum. On 1 September 1981, we discovered the tip of an iceberg that now finally reaches its final chapter with a major monograph by John and me (with our endearingly patient research assistant, Sarah Leppard). From that day 30 years ago, I have had to grasp the role of paintings, text and the place of the minor arts of craftsmen in the making of a Middle Ages which was, as the excavations at San Vincenzo al Volturno spectacularly showed, rich in detail and ever-changing ideas and imagination. The one-dimensional New Archaeology, with its suspicion of cognition and the role of the individual in the past, never again held the same appeal for me. All this I owe to John's effervescent tuition. And for that reason I have returned on this early spring day to find a detail – a footnote so to speak – pertinent to an essay that John and I are completing.
---
This article is an extract from the full article published in World Archaeology Issue 47. Click here to subscribe