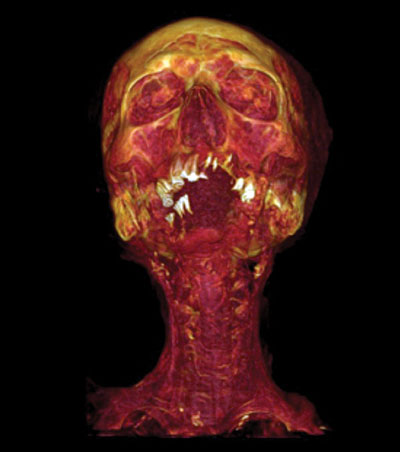 Hardening of the arteries is commonly associated with the modern sedentary lifestyle, but it affected people across the ancient world, over a period of 4,000 years, newly-published research says. Full-body CT scans of 137 adult mummies from ancient Egypt, Peru, southwest America (Ancestral Puebloans of the Archaic and Basketmaker II cultures), and the Aleutian Islands in Alaska (Unangan people), revealed that over a third showed signs of atherosclerosis, calcification in their arterial walls.
Of the individuals studied, probable or definite calcification was observed in 38% of ancient Egyptians, 25% of ancient Peruvians, 40% of Ancestral Puebloans, and 60% of Unangan hunter-gatherers.
Although previous research has uncovered atherosclerosis in Egyptian mummies, this was the first study to reveal its presence in mummies from disparate global regions, and across such a broad chronological period.
'The fact that we found similar levels of atherosclerosis in all of the different cultures we studied, all of whom had very different lifestyles and diets, suggests that atherosclerosis may have been far more common in the ancient world than previously thought,' said Prof. Randall Thompson, co-author of the study, which was recently published in The Lancet.
---
This article is an extract from the full article published in World Archaeology Issue 58. Click here to subscribe