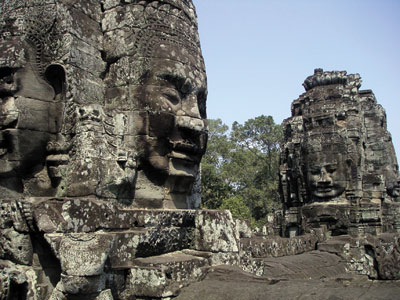 Water, ritual, and function
I am writing this column on an aeroplane heading from Christchurch in New Zealand to Singapore, then on to Bangkok for the second season of excavations at Non Ban Jak. As is usual with all my Thai digs, I have no idea what will turn up as we go deeper into the residential area of this Iron Age town.
But I am feeling relieved that only a week or so ago, the sixth and final volume on our 20-year research endeavour to find out more about the prehistoric ancestors of Angkor was published, thanks to the generosity of the Thai Fine Arts Department and its Director General, Somsuda Leyavanija. There are times when it helps having a former graduate student in a position of high authority.
It is only three weeks since I returned from Dublin, and the bi-annual meeting of the European Association of Southeast Asian Archaeologists. By a remarkable coincidence, I gave an open lecture there on the origins of Angkor as my predecessor on CWA – and very old friend – Brian Fagan was also lecturing to the Irish Academy on human expansions over water. We had a great catch-up over lunch, during which our joint interests had a good airing.
And this brings me to my present topic: water management and Angkor. My first few visits to this amazing site were by air, and as you come in to land at Siem Reap airport, you cannot fail to see the Western Baray.
Water matters
A baray is a reservoir, and the Western – built by King Suryavarman I about a thousand years ago – is the biggest: fully 8km (5 miles) long by 2km (1.2 miles) wide. It is still partially filled, and recent engineering works ensure that the water is channelled into rice-fields to the south. There are two other giant barays. The Eastern Baray is dry, while the Northern Baray recently has been filled with water. The city of Angkor Thom was placed between the Eastern and the Western Barays.
About 15 years ago, I was asked to write a brief book on the civilisation of Angkor. This is a bit like walking across a minefield, literally then, because Cambodia was still plastered with landmines, and metaphorically too, because there are colleagues who know a lot more about Angkor than I. In researching the book, I followed the approach of Michael Vickery. Michael is renowned for reviews that sting like a hornet, and his advice is: go back to the original texts. So I read every one of the surviving Angkorian inscriptions, not in Sanskrit or Khmer, but in French translation.
One thing that struck me was a virtual silence on reservoirs, irrigation, and ploughing. As a result, when it came to summarising the barays and water management, I sat on the fence. The original texts made it clear, as do the temples placed in the centre of each reservoir, that they exercised a strong ritual function, projecting the divine image of the god-kings that put in train their construction.
On one hand, B P Groslier had suggested that Angkor was a hydraulic city in which management involved reticulating water through the barays. On the other, a noted hydraulic engineer van Liere had pronounced that not a drop of water ever left the barays to feed the growing rice. I concluded that the possibility that irrigation was a factor needed resolution.
Seismic changes
As it happens, just as my book was published, seismic changes were under way in our understanding of this remarkable civilisation. Roland Fletcher at Sydney and Christophe Pottier of the École Française d'Extreme Orient began intensive fieldwork, involving teams of dedicated graduate students versed in ground-penetrating radar and pollen analysis, and equipped with the results of satellite imagery and stout pairs of boots. In a related programme, Jacques Gaucher has been teasing out the layout of the ancient city of Angkor Thom from beneath a thick blanket of forest.
The results are literally ground-breaking, and many were summarised in sessions at the Dublin meeting. For example, a massive diversion canal and associated slipway to remove excess water has been found that took water south to the Eastern Baray from the Puok River. Again, a complex stone structure on the eastern bank of this baray has been opened by excavation, which controlled the outflow of water into distribution canals. This is the earliest of the three Angkorian barays, and already they clearly combined religious and economic functions.
In my book, I had followed the two notable French scholars, B P Groslier and Claude Jacques, in describing a large rectangular structure on the south-western corner of the Western Baray as the walls of an early city that was partially obliterated when the baray was constructed. Now detailed mapping by Christophe Pottier has revealed a very different story.
In fact, there was a series of outlets along the southern dyke, linked with a complex rectangular layout of banks that distributed water into two canals. One of these, about 8km (5 miles) long, took water directly to the Great Lake. The other headed at least 28km (17.5km) to the south-east, periodically linking with further feeder canals that were laid out to service myriad embanked ricefields.
Past glory
In 1286, a Chinese diplomat, Zhou Daguan, spent over a year living in the walled city of Angkor Thom, and wrote of his experiences. He described the royal palace, a royal procession, the tiled homes of the elite, and the thatched houses of the ordinary residents. In the oppressively hot weather, people bathed daily in ponds within the city walls.
Today, all but the central royal area is under dense forest. But Jacques Gaucher has cut transects through the city and, through coring and excavations, has reconstructed its rectangular layout into insulae bounded by streets and canals. It must have been a fabulous site, with the golden towers of the temple mausolea of kings Jayavarman VII and Udayadityavarman II dominating the skyline.
Beyond the city walls, Fletcher and Pottier with their teams of colleagues have mapped what they say is the largest dispersed pre-industrial city in the world, the kernel of a civilisation from which roads and bridges linked with provincial centres like Phimai in north-east Thailand – and where, tomorrow, I will be based while venturing out to discover more about the Iron Age lords whose achievements contributed to the genesis of Angkor.
---
This article is an extract from the full article published in World Archaeology Issue 57. Click here to subscribe