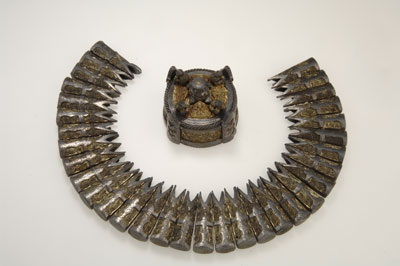 The stereotypical Viking of popular culture is a marauding raider in a horned helmet, but the archaeological record provides a much more nuanced view. Vikings!, a touring exhibition drawing on the collections of the Swedish History Museum in Stockholm, explores some of these ideas, showing the inhabitants of Medieval Scandinavia not just as warriors, but as merchants, explorers, and skilled craftsmen.
Over 500 artefacts, many of which have never been exhibited abroad before, shed light on domestic life and funerary rituals. Visitors can also learn about the Vikings' religious beliefs, with jewellery and figurines depicting the pagan gods, as well as Scandinavia's earliest crucifix – found on Björkö, Sweden, and dated to the 10th century. Textiles, metalwork, and objects made from glass, bone, and amber highlight the creative powers of the Vikings; among these objects are finely wrought brooches and pendants decorated with animal and human imagery.
Combining these artefacts with new research and interactive displays, the exhibition presents a complete picture of who the Vikings were, and how they lived, a thousand years ago.
Vikings! runs from 18 January until 12 May, 2013.
Entry to the exhibition costs £9, concessions £7.50, 12- to 15-year-olds £6, under-12s and members free.
---
This article is an extract from the full article published in World Archaeology Issue 56. Click here to subscribe