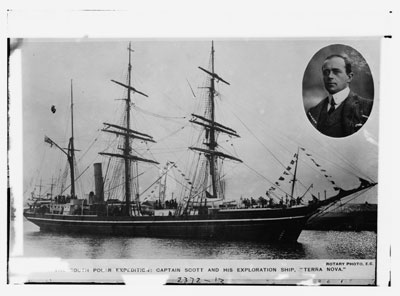 Another sunken vessel recently rediscovered is the Terra Nova, which carried Captain Robert Scott on his ill-fated expedition to the South Pole. It has now been found off the south coast of Greenland.
Described by Scott as 'a wonderfully fine ice ship', after the polar trek the Terra Nova worked as a sealing vessel and coal transporter. She was sunk by the US coastguard in 1943 after sustaining ice damage, as her wooden hull was considered a risk to other vessels.
Now the Schmidt Ocean Institute has located the ship once more, during routine performance testing of the echo-sounding equipment on its flagship R/V Falkor.
While examining a patch of seabed, researchers noted an unidentified feature measuring 57m – the same length as Scott's ship. After sending down a weighted camera, the team identified the remains of a wooden wreck. By comparing the ship's funnel to historic photographs of the Terra Nova, they were able to confirm that this was the lost polar ship.
"This is probably the highlight of my career at sea,' Leighton Rolley, the technician who planned the survey, told CWA. 'The Terra Nova had one of the most colourful and extended careers of all the polar ships from the "Heroic Age" of exploration.'
---
This article is an extract from the full article published in World Archaeology Issue 55. Click here to subscribe