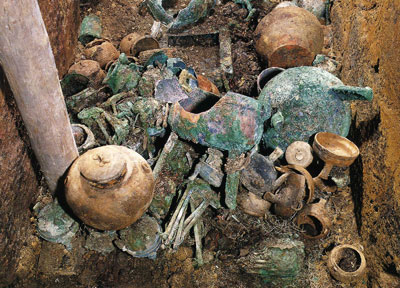 The Han Dynasty was founded in 206 BC, and their 400 years of near-continuous rule represent a Golden Age for China. By the 1st century AD their territory rivalled the Roman Empire for population and power, but this success was hard-won, forged through long struggles with neighbouring states.
Now the Fitzwilliam Museum's new exhibition, The Search for Immortality: Tomb Treasures of Han China, reflects the high style in which imperial – and aspirational – rulers were buried, featuring over 300 jade, gold, silver, and bronze artefacts excavated from Han tombs and those of a rival power, Nanyue.
Showcasing pottery soldiers, dancers, and servants, as well as lavish burial furnishings – including every home comfort from musical instruments to a toilet – this exhibition demonstrates that Chinese rulers expected to enjoy the same comforts in death that they had been accustomed to in life. The displays are arranged to reflect the layout of a royal tomb, ending with the burial chamber of the king himself, where visitors can see two life-size suits of burial armour, painstakingly crafted from hundreds of tiny pieces of jade sewn together with gold or silk thread.
The Search for Immortality: Tomb Treasures of Han China runs until 11 November. Admission is free.
THE FITZWILLIAM MUSEUM
Address: Trumpington Street, Cambridge, CB2 1RB
Opening hours: 10.00-17.00 Tue-Sat, 12.00-17.00 Sundays and Bank Holiday
Mondays. Closed Mondays.
Website: www.fitzmuseum.cam.ac.uk
---
This article is an extract from the full article published in World Archaeology Issue 53. Click here to subscribe