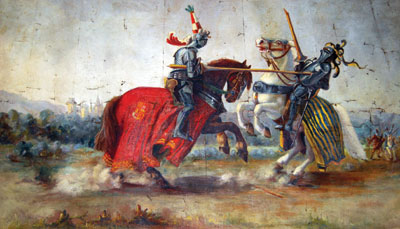 Lion man or woman?
In August 1939, archaeologist Otto Völzing was excavating deep inside the Stadel cave in the Schwäbische Alb mountains of south-western Germany when the Second World War rudely interrupted his research. As so often happens in archaeology, his most spectacular find – a carved ivory figure – emerged on the last day. As is also too often true in archaeology, Völzing made the find by shattering the small statuette with his mattock. He packed the fragments into a box, and headed off to do military service.
Fast forward half a century: in 1988, the 220 pieces of mammoth tusk were finally reassembled into one of the most impressive sculptures of the Palaeolithic age – called Lion Man, it stands 300mm tall and appears to be a human figure with a lion's head. Or perhaps not. Perhaps the head is of a lioness. Even more ambiguous is a triangular protuberance between its legs. German archaeologist and Upper Paleolithic expert Joachim Hahn interprets this as a 'penis in a hanging position'. No, says distinguished palaeontologist Elisabeth Schmid, 'it is a pubic triangle'.
The argument has raged since the late 1980s: at stake are questions about whether Palaeolithic society was matriarchal or patriarchal, and whether women played a leading role in religious rituals (one interpretation is that the lion person is a shaman wearing the head and pelt of a lion/ess). To settle the question, Austrian archaeologists returned to the Stadel cave; sifting Völzing's spoil heap, they found a further 1,000 ivory fragments – a further 30 per cent of the figurine – including the missing right arm and pieces decorated with incised lines and raised dots. Staff at the State Conservation Office in Esslingen, near Stuttgart, now face the task of starting the jigsaw all over again, and this time an awful lot of attention will be focused on a small but significant part of the shaman's anatomy.
Sleep tight
A mixture of compost and ash found in a South African cave has been declared the world's oldest bed. Some 77,000 years ago, it seems, we would snuggle down to a good night's sleep on a mat of compressed sedge, rush, and grass gathered from the banks of a nearby river. Cleverly, the people who used the Sibudu rock shelter on a seasonal basis also included Cape laurel leaves (Cryptocarya woodii) in the bedding; their camphor-like smell (like old-fashioned moth balls) kept mosquitoes and other pests at bay. Every so often, the bed would be set alight to eradicate any pests not deterred by the camphorous odour, and a new mat would built on top of the ashes.
Lyn Wadley, an archaeologist at the University of the Witwatersrand, Johannesburg, and leader of the excavation team at Sibudu says that the cave inhabitants did much more than just sleep on their mats: fragments of chipped stone and crushed, burnt bone found among the bedding suggest that early modern humans worked and ate in bed: 'there were no rules for separate eating, working or sleeping places,' she says. 'Breakfast in bed may have been an almost daily occurrence.'
Megaliths and fairy curses
According to the Irish Independent, the downfall of Sean Quinn, formerly Ireland's richest man with a fortune of €4.7bn, was brought about by angry fairies. Financial experts claim Mr Quinn's stake in the failed Anglo Irish Bank toppled him into bankruptcy. But Cavan people think differently: Quinn's cement, hotels, and insurance empire was brought down by the fairies following the destruction of a megalithic tomb.
The 4,000-year-old Aughrim Wedge Tomb was excavated in 1992 and then moved, stone by stone, to the grounds of the Quinn Group's Slieve Russell Hotel, in Ballyconnell, Co. Cavan, to make way for stone quarrying at its original site (by the same Quinn Group). In the words of Toirbhealach Lyons, owner of Molly Maguire's pub in Ballyconnell, 'you could never have any luck after moving an ancient tombstone'.
Seamus MacFlionn, folklore expert at the University of Ulster, says that Cavan is full of ancient sites and people genuinely believe that 'to move or damage any ancient rath [ringfort], tomb or fairy tree brings bad luck'. Not everyone agrees: Ballyconnell butcher Gerard Crowe describes it as 'a load of auld rubbish, simple as that'. Let's hope Mr Crowe has adequate insurance for business interruption caused by fairies angered by his discourtesy.
Medieval PTSD
Reading the romantic tales in Sir Thomas Malory's Le Morte d'Arthur (first published in 1485) you would think the knights of old were as steely as their swords and armour. Not so, says Thomas Heebøll-Holm of the SAXO Institute at the University of Copenhagen, whose research into violence in the late Middle Ages reveals that knights suffered post-traumatic stress disorder (PTSD) just like modern soldiers.
Among the many documents studied by Heebøll-Holm, those of the French knight Geoffroi de Charny are among the most telling: de Charny describes psychological consequences of being a knight – the nightmares, flashbacks, hyperactivity, and depression – that are much like the symptoms of PTSD. Poor sleep, hunger, and a feeling that even nature is going against them are all hardships the knights faced before and after battle. According to de Charny, the best way to resist such stresses was to fight only for a good cause – for law and order – and never for dubious reasons or personal gain.
Drop in the ocean
One of the oddest newspaper headlines of recent weeks was the one in the UK's Daily Telegraph that said: 'Kaiser Wilhelm's urinal found at bottom of Baltic'. Actually, what had been found by German maritime archaeologists was the wreck of the Udine, a light-cruiser sunk in 1915 byBritain's Royal Navy in the First World War, some 28 nautical miles off the German island of Rugen. The piece of porcelain once used by Kaiser Wilhelm was an incidental detail: the German emperor happened to have used it on 11 December 1902 after launching the ship at Kiel– surely one of the least important events in the ship's history.
More important is the attention drawn to the huge number of First and Second World War wrecks lying on the seabeds of the Baltic and North Sea, all considered war graves under international law. That has not stopped looters desecrating them: as metal commodity prices rise to stratospheric levels, marine archaeologists in the UK, Germany, and theNetherlandsreport a growing number of incidents involving salvage operators looting such wrecks to retrieve valuable metals.
The best Varsity rugby team ever
By sheer coincidence, Current World Archaeology has ended up with two columnists who are both graduates of St Catharine's College, Cambridge. Even more of a coincidence is that both are former rugby players, and both played the vital role of hooker. The difference is that whereas the author of this column played for school and town, Charles Higham was a member of the legendary 1961 Cambridge University First XV that has gone down in history as the only Varsity side ever to have ended a season without losing a match.
Charles interrupted his dig in Thailand to fly in to Londonon 30 November 2011 for a reunion dinner at the Savoy hotel celebrating the 50th anniversary of the final game of that season. In that match, before a 60,000-strong crowd, the Oxford side threatened to snatch their unbroken record. A hard-fought game looked likely to end in a 3-3 draw; then, 20 minutes before full time, Geoff Frankcom scored a try for Cambridge and, in the closing seconds, our Charles put down the final try of the game and the season, leaving the score 9 to 3 in Cambridge's favour. Charles modestly recalls it was 'a lucky bounce straight into my hands… with only full-back Willcox to beat I passed to Michaelson… he makes straight for Willcox then flips it back to me… I'm over in the corner… amazing noise… a man in the front row of the east terrace is going berserk… so am I… so are all of us… relief all round.'
---
This article is an extract from the full article published in World Archaeology Issue 51. Click here to subscribe