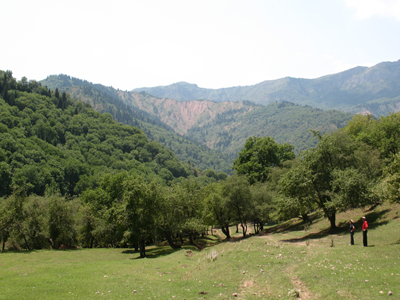 Professor Adrian Newton, of the UK's Bournemouth University, has called for better protection of the threatened fruit forests of Kyrgyzstan, the landlocked and mountainous central Asian state that has been in the news recently because of tensions between the country's two main ethnic groups – the Uzbeks and the Kyrgyz people.
Though considered remote today, Kyrgyzstan was an important port of call for merchants carrying goods between Asia and Europe along the long and arduous Silk Road who would stock up on fruit and nuts as they passed through southern Kyrgyzstan. The region's forests, especially those of the Tien Shan mountains, are dominated by edible fruit and nut species, including walnut (Juglans regia) and many varieties of Malus (apple), Pyrus (pear) and Prunus (cherry and plum), and many of the apple trees blooming in our back gardens are descendants of these ancient wild fruit trees, spread into Europe by this route.
'They have,' says Professor Newton, 'played a key role in human history and now it is our turn to pay back the debt by taking the necessary steps to conserve the 44 species of Central Asian fruit trees that are most at risk, 11 of them critically.' Only 30,000ha of fruit and nut forest remain, which is less than five per cent of the original area. Over half the decline has taken place in recent decades as a result of excess logging, over cropping and both accidental and deliberately started forest fires.
Professor Newton is working with local communities living in the forested area to help conserve the trees by adopting sustainable woodland practices. Some 48,000 people, 80 per cent of them living below the poverty line, depend on the forests for fruit, nuts, firewood and honey. Professor Newton warns that the demise of the trees and their genetic make-up poses a threat to global food security: the forests are a storehouse of genetic diversity that includes higher than average tolerance of pests and disease and of cold climatic conditions that could be as vital to the breeding of future fruit varieties as it was to the horticulturalists who bred the fruit species that sustained Europe's Medieval populations.
---
This article is an extract from the full article published in World Archaeology Issue 42. Click here to subscribe