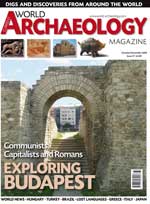 What was the fate of archaeology under Communism in post-war Europe? In the East, the Communists carried out immaculate reconstructions of many of their historic city centres — at the very time when we, in the West, were destroying many of ours in the name of modernity. A classic example of such Communist work is to be found in the great Hungarian capital of Budapest. Their restoration of the romantic glories of fin de siècle Budapest is well known, but Budapest was also the site of the major Roman legionary fortress and civilian town of Aquincum. What remains to be seen of Aquincum? Andrew Selkirk went to Budapest to find out.
The militaristic Aquincum was located on the frontier of Roman expansion, but what was life like on the frontier of the Assyrian Empire? In the 9th century BC, the Assyrians created a realm on a scale that had hitherto been unimaginable — marching east, west and north from their heartland in Mesopotamia. To the very north, in modern Turkey, they established the colonial site of Ziyaret Tepe. Current excavations are revealing fascinating insights on everyday life, but they also tell a chilling story of how the boom of Empire inevitably went bust.
Other highlights include a travelogue on walking the heart of Athens, and a feature explaining how to unlock the lost languages of the past.
FEATURES
HUNGARY Communists, capitalists and Romans: The tumultuous history of the legionary fortress and civilian town of Aquincum, Roman Budapest.
TURKEY Ziyaret Tepe: What was life like on the northern frontier of the Assyrian Empire? The colonial site of Ziyaret Tepe reveals how boom went bust.

BRAZIL Serra da Capivara: The compelling rock art of northeastern Brazil explored. But how might it redraft the very story of early human migration?
LOST LANGUAGES How to decipher undeciphered scripts: From Minoan Linear B to Maya Glyphs, Andrew Robinson explains how to decode the past.
READERS WRITE
Egypt at last; Egyptian cults; Devastated by plunder; Messene travels; Venus.

WORLD NEWS
Latest on archaeological news, discoveries and scientific research.

DIGGING DEEPER
News extra from Brian Fagan.

TRAVEL
GREECE: A walk through the heart of Athens, taking in the latest archaeological gems, but ably avoiding the crowded Acropolis.
POSTCARD: Richard Hodges tours the Salento in South Italy; there he finds a clash of civilizations and some intriguing Medieval graffiti.

REVIEWS
Exhibition The Power of Dogû: a look at the ancient Japanese ceramic figures currently on show at the British Museum.
Books The Rape of Mesopotamia: behind the looting of the Iraq Museum; The Milk Jug Was A Goat: Two families, two Caribbean islands; The Architecture of Roman Temples: the Republic to the Middle Empire.

GREAT DISCOVERIES
Sutton Hoo The elite Anglo-Saxon cemetery explored.