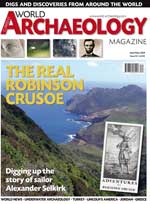 Who is Alexander Selkirk? Aside from being our publisher's brother, he was also the inspiration for the world's most famous castaway. Writer Daniel Defoe based his novel, Robinson Crusoe, on the true adventures of a Scottish sailor, one hot-headed Alexander Selkirk, who was marooned on a tiny island, off the coast of Chile, from 1704 to 1709.
But what, if anything, remains of Alexander Selkirk's enforced occupation on that island – now named Robinson Crusoe Island? Archaeologist Daisuke Takahashi had a possible lead: an elderly islander had shown him the little-known ruins of a small building, deep in an overgrown clearing in the forest. Could this have been Alexander's camp? Its location seemed perfect. Moreover, we know that following several months of frantic panic and depression, Selkirk built himself two huts: one to live in, the other for his food, just as he had back home.
So the archaeologists began digging the abandoned building. But what did they find? Did they uncover the secrets of Alexander Selkirk, the real Robinson Crusoe? And what does their work reveal about island life in the 18th century? Was it really a desert island idyll of balmy days under the coconut fronds? If so, why did Alexander Selkirk swiftly turn to piracy after his rescue?
Heave ho and up he rises.
CHILE DESERT ISLAND DIGS: EXCAVATING THE REAL ROBINSON CRUSOE
Two hearths, three postholes, and a fragment from a nautical instrument: could this be the shelter of Alexander Selkirk, the original Robinson Crusoe?
UNDERWATER ARCHAEOLOGY BALCHIN'S VICTORY: THE WORLD'S MIGHTIEST WARSHIP DISCOVERED
Odyssey Marine Exploration believes it has found the long lost shipwreck of HMS Victory, sunk in a ferocious storm in 1744.
TURKEY FLYING THE AEGEAN: A HEAVENLY VIEW OF KAUNOS
David Kennedy powers up a microlight plane to take us for a scenic trip over one particularly stunning Classical site sitting on the Aegean coastline.
AMERICA IN THE LAND OF LINCOLN: LOG CABIN ARCHAEOLOGY
The 16th president of the USA is much written about; now, excavations in Salem, Illinois, are revealing new secrets about his early years.

TRAVEL
JORDAN: The Great Arab Revolt Project: T E Lawrence's Jordan.
POSTCARD: Richard Hodges explores Byzantine Kastoria in Greece.
ON SITE INSIGHTS: Babar Javed takes us to Borobudur, Java.
REVIEWS
EXHIBITION Shah 'Abbas: the remaking of Iran at the British Museum.
BOOKS The Architecture of Alexandria and Egypt, 300 BC to AD 700;
The Ancient Greeks for Dummies; The British Museum Concise Introduction
to Ancient Greece; Panorama of the Classical World.
GREAT DISCOVERIES: GREAT FINDS THAT CHANGED THE WORLD
The Linear B Tablets: the official records inscribed on slabs of burnt clay
found more than 100 years ago at Knossos by Arthur Evans.

READERS WRITE
Dredging, Jordan, Roman garum, time travel, Messene

WORLD NEWS
Latest on archaeological news, discoveries and scientific research.
DIGGING DEEPER
News extra from Brian Fagan.