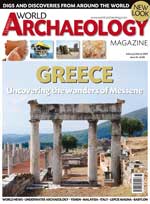 In the 8th century BC, the Spartans subjugated their Peloponnesian neighbours, the Messenians. When eventually Sparta was conquered, the Messenians founded a new city at Messene, which flourished in the Hellenistic and Roman periods. Now, a major restoration project has made it one of Greece's best preserved ancient cities, far triumphing over Sparta's paltry remains. Revenge is sweet!
But what exactly remains to be seen at this gem of a city? The current issue opens with a feature uncovering the wonders of Messene.
Thereafter, we go beneath the seas. In 1694, HMS Sussex was lost in the Straits of Gibraltar. Various reports have estimated that £2.6 billion of gold – some nine tons- were locked in her hold when she disappeared into the deep. Following her recent discovery, the Florida-based company, Odyssey Marine Exploration, got to work investigating. The archaeological community feared underwater robbery. After three years of total media blackout, the results are finally being made public.
Other highlights include a feature on the Medieval Yemeni city of Zabid, while George Nash hikes into the mountains of Malaysia in search of rock-art.
FEATURES
GREECE MESSENE UNCOVERED: SMARTER THAN SPARTA
An extended feature on Messene, the best preserved city in the southern Peloponnese. In a twist of historic irony, it now far surpasses the city of Sparta, home to the Messenians' former oppressors.
UNDERWATER ARCHAEOLOGY INTO THE ABYSS: DEEP-SEA SHIPWRECKS SCIENCE AND SCANDAL
In 1694, HMS Sussex was lost in the Straits of Gibraltar, buried deep beneath the sea. For three years the Florida-based company, Odyssey Marine Exploration, has been investigating – to great scandal. So, what have they discovered?
YEMEN BENEATH THE SANDS: THE MEDIEVAL CITY OF ZABID REVEALED
The city of Zabid, lying upon the hot and uninviting sands of the Red Sea coast, was a cultural and political centre of Medieval Yemen. The archaeologists have finally reached bedrock and reveal the story of this dynamic site.
TRAVEL
MALAYSIA: George Nash explores the rock-art of Malaysia and invites readers to join in.
POSTCARD: Richard Hodges gets gourmand in Spello, Italy.
ON SITE INSIGHTS: Archaeological insights on the city of Lepcis
Magna in Libya from specialist Philip Kenrick.
REVIEWS
EXHIBITIONS The history and mystery of ancient Babylon are explored in the new exhibition Myth and Reality at the British Museum.
BOOKS Palenque: Eternal City of the Maya; Henri Cartier-Bresson; arden & Cosmos: The Royal Paintings of Jodhpur.
GREAT DISCOVERIES
GREAT FINDS THAT CHANGED THE WORLD
How radiocarbon dating revolutionised our concept of social evolution.