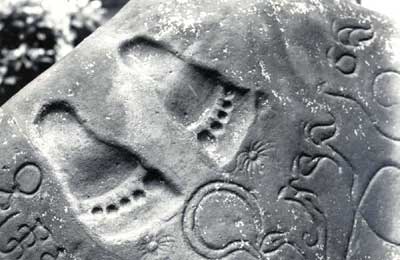 From the bison of Lascaux to the intriguing figures from the Sahara, the prehistoric rock art of Europe and Africa is undeniably alluring. But what about ancient rock art from other parts of the world?
Although it tends to be forgotten, Southeast Asia boasts a unique corpus of material, and almost as much rock art as is known from Europe and Africa combined.
Now, a raft of major new international projects, brought together as part of a new initiative named Eagleandowl, is seeking to investigate this rock art and bring it to the world's attention. Here the Eagleandowl teams reveal the scope of their work across Australia, Indonesia, Malaysia, Myanmar and deep into China.
Australia's contact art
Our new initiative, Eagleandowl, is a partnership between individuals, local communities, universities, institutions, and governments. Our aim is to explore and promote the rock art of Southeast Asia. Each of our projects is designed to combine the keen eye of the eagle-artist with the wisdom of the owl-scientist (hence our name!). By bringing together new art and science approaches to rock art and its attendant archaeology, we aim to make innovative insights into human evolution, culture, and even the more recent past of Southeast Asia. Much of this art has been forgotten so it is our ambition to bring it to much wider audiences.
Of all the regions we are investigating, the prehistoric art of Australia is perhaps the best known to the general public. Evidence for indigenous Australian art stretches back at least 50,000 years. It covers a wide range of traditions and appears on a myriad of media including wood carving, body ornamentation, stylised weapons and tools, as well as rock surfaces. Anthropologists report that many Aboriginal groups today use art for multiple purposes, whether to mark territory, order politics, document clan relationships, record history, or to tell stories about the Dreamtime – the epic story of their creation. But what of the art left by previous generations at over 100,000 sites?
In early 2008, Eagleandowl launched a new national Australian rock art research project called Picturing Change. Its aim is to investigate the rock art produced by Aboriginal people since the recent arrival of Asians and Europeans in different parts of Australia – a time, as the project's name suggests, of great change to the locals. Until now, such art has not been comprehensively studied in Australia, with many previous researchers entirely dismissing it.
This 'contact art' began 500 to 150 years ago, depending on the area, and continued virtually to the present. Such art tends to tell stories about the issues and dilemmas involved in the arrival of new people, as well as reiterating old beliefs about the land and indigenous culture. Picturing Change brings together four existing projects under a new theme, with field research being undertaken by Paul Taçon and Sally K May of Australia's Griffith University, June Ross of the University of New England, and Alistair Paterson of the University of Western Australia. They are each investigating one of four widely separated parts of Australia: the Greater Blue Mountains World Heritage Area of New South Wales, Central Australia, the Pilbara of Western Australia, and western Arnhem Land in the Northern Territory. Their aim is to record the images, gather oral histories, and so ultimately build up a comprehensive account of Australia's recent indigenous rock art.
Prior to the project's launch, each scholar had recorded many exceptional and culturally important rock art sites. One highlight was the 2006 discovery by Taçon's team of archaeologists and Aboriginal community members of the largest known Blue Mountains engraved platform in rugged, wild Wollemi National Park, near Sydney. This has spectacular images of varying age covering an area the size of a football field. One of the most remarkable and culturally significant figures at the site is the only known life-size engraving of the 'Eagle Ancestor'.
According to the oral histories, this is a key Ancestral Being for the Aboriginal people of the greater Sydney region. A drawn representation, with additions made during the contact period, was also found at a nearby shelter site. These images are essential to the region's history since they verify late 1800s oral accounts of a local Aboriginal presence, and because they demonstrate that Aboriginal people were interacting with ancestral sites in rugged areas near Sydney long after the arrival of Europeans. Recording this contact art, and bringing attention to it, has been a fulfilling pursuit for the researchers who are keen to give this forgotten art the recognition it deserves.
---
This article is an extract from the full article published in World Archaeology Issue 29. Click here to subscribe