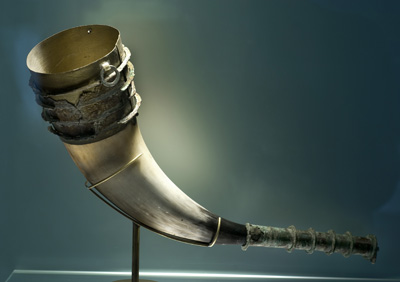 About an hour's drive northwest of Oslo, near the town of Hønefoss, and off into the open countryside, lies the site of Veien. People have always known there was something special, something important, about Veien. Its very name consists of two Old Norse words: Ve or Veig, meaning sacred or strength, and vin meaning field.
Noting numerous mounds across Veien, Professor Oluf Rygh, of the Cultural History Museum in Oslo, set forth to investigate the site in 1870. In a fervour typical of his time, he excavated some 87 mounds in five years. Within most, he found human cremation evidence plus simple, everyday finds such as clay vessels, iron spearheads, and combs made of antler.
But one burial mound differed from all the rest: the so-called King's Mound (dated to c.AD 400). Not only was it the largest, but it also contained the site's only non-cremated human burial, and its finds were spectacular. These included about 600g of gold, a silver decorated sword scabbard, bronze decorations from a drinking horn,  plus Roman weighing scales and a heavily mended Roman-origin bronze cauldron. The finds were all transferred to Rygh's museum, and the best have been on permanent display.
Since those early digs, a few other artefacts – such as a Roman coin, dating to the reign of Emperor Constantine the Great, AD 306-337 – were found during ploughing and other farm work. But apart from this, the site was largely left for over 100 years – until the 1990s, when archaeologists from the University of Oslo took a renewed interest. Not only did they want to discover more about the burials, but they were also intrigued by some likely settlement evidence – as strongly suggested by a series of aerial photographs taken in the late 1980s.
Post excavation
In 1992, the excavations resumed as a pioneering project, led by Lil Gustafson of the Cultural History Museum, along with Buskerud fylkeskommune and the local Veienmarka Secondary School. For my part, I got involved as a 14-year old pupil at the local school when I volunteered for a six-week dig in the summer of 2000. The richness of the site gave me the 'archaeology bug', and I went on to read archaeology at the University of Leicester. I am now one of the official archaeologists at the site.
The ground at Veien is sandy, meaning that even as a complete amateur, I could easily identify dark rings where wooden posts once stood. Whole rows of such posts indicated the presence of a longhouse – with the posts supporting a roof made of several layers of birch bark and wooden planks, all held together with thousands of wooden plugs (and no nails!). Its walls were made of lattice work coated with a thick layer of clay mixed with straw – rather like the wattle-and-daub technique known in Britain. Cooking pits were also easily recognisable due to the content – burnt material, charred and fragmented stones, and occasionally bones. The aerial photographs had not lied: here was the settlement evidence the archaeologists hoped for.
Indeed, since 1992, the team has uncovered four Iron Age longhouses. The oldest was probably in use from c.180-45 BC (based on carbon dates taken from the postholes and cooking pits). It was some 21m-26m long, though disturbances in the archaeology make the exact length unclear, and about 7m wide. It was then demolished, and at around AD 1, a second, very long longhouse was built partly over the same area. The latter was about 47m long and about 7m-8m wide, which is twice the length of a typical longhouse from this period. It contained three, maybe four, hearths used for warmth, light, and probably also some food preparation.
Then, at around AD 200, judging by the amount of charred remains, this second house appears to have burnt down. But shortly after, a third longhouse (approximately 36m long and 10m wide) was built about 15m to the west. After a couple of hundred years, it, too, was demolished and a fourth longhouse (35m long, 8m wide) was built in its place, probably at the end of the 4th century. Apart from a much later Medieval structure, this last longhouse appears to mark the end of settlement at Veien. But why was each house destroyed? Was it simply that the owners lusted after a new house, or was something more sinister at work? Before we speculate further, we need to consider the rest of the evidence.
---
This article is an extract from the full article published in World Archaeology Issue 47. Click here to subscribe